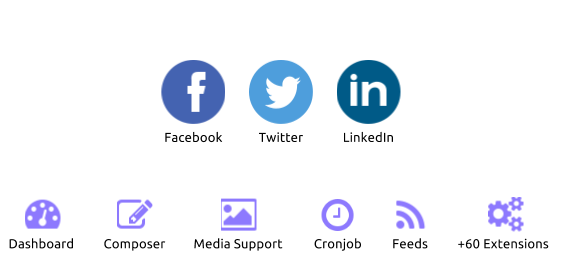 AutoTweet NG PRO is the most powerful Joomla! extension to automate and curate content publishing from Joomla! to Facebook, Twitter, LinkedIn and more. Simply, AutoTweet posts your content from all well-known extensions to social networks.
AutoTweet NG PRO solves the integration of social networks with an extensive feature set to empower the ecosystem of Joomla! extensions.
Beyond the simplest case of auto-posting, where an author creates a Joomla! article and a post is published to a social network ( Facebook, LinkedIn, Twitter, etc). AutoTweet PRO allows you to implement a social media strategy to integrate over 60+ Joomla! application extensions to an unlimited number of channels.
Start the Social Management of your Content with AutoTweet
AutoTweet NG PRO has a formidable set of features to implement a full process for integrated content management based on automated auto-posting: creation, generation, edition and publishing with streamlined quality control.
What is the main difference between AutoTweetNG and Joocial?

AutoTweet is mainly oriented for unassisted auto-posting. Just keep using Joomla! as usual, creating articles or other content items.

On the other hand, Joocial has all AutoTweet features plus advanced features for social management. For instance, Joocial has a "publishing agenda" to repeat Posts, or "working hours" to define when your audience is online. In a real life scenario, a publisher can create a new content item and define the social impact, associating media attributes.

Finally, Joocial + Composer App is the ultimate social media solution for Joomla!. It brings all features for auto-posting, social publishing (agendas, evergreens, scheduling, etc) and an innovative mobile application, the Composer App. Composer App integrates posts with all mobile social channels, like Facebook, Twitter, Instagram, Pinterest, WhatsApp (or any other application ).
Content auto-published from Joomla! to a Facebook Company Page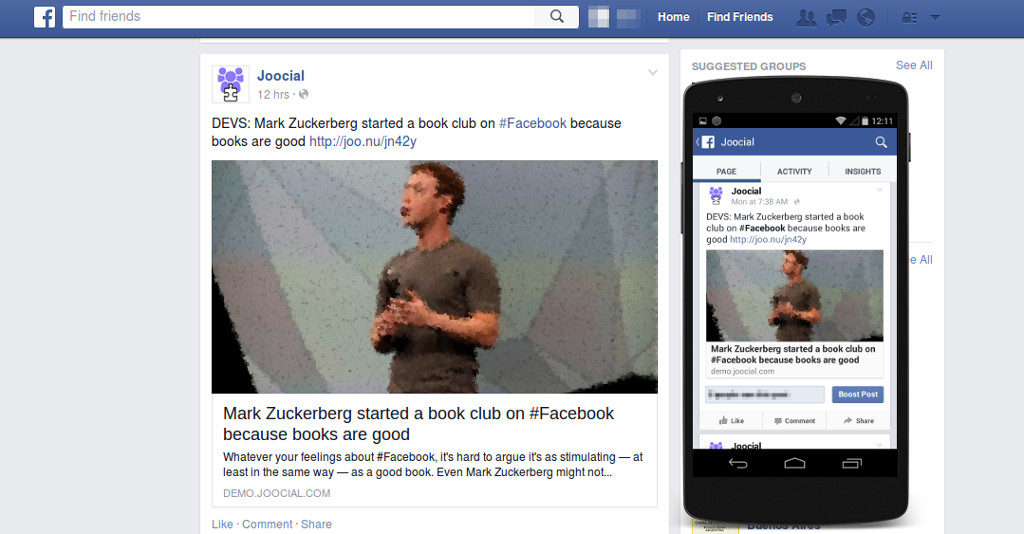 Content stream generated in https://www.facebook.com/Joocial
Beyond simply auto-posting, Auto Tweet NG PRO provides the right tools to curate content in the publishing process: filters and rules, RSS Feeds grabber, periodic Cron Job (Scheduled Task), content re-scheduling and integration with over 60+ Joomla! application extensions to an unlimited number of channels.
In a nutshell: AutoTweet main features
Control Panel

An operative dashboard to have a quick view of your social media actions.

Social Composer

A supreme editor to create your messages. Composer allows you to take advantage of the designed strategy for automated and manual social posts. Therefore, all social posts follow the same planning to reach a higher degree of consistency.

Requests & Posts

All activities can be managed and monitored. Requests and posts can easily be cancelled, repeated or rescheduled.

Rules

To implement a supreme social plan, rules provide a method to organize content, customize and distribute it along heterogeneous social channels. For instance, AutoTweet can apply rules by category, author, language, words, or regular expressions.

Channels

Social channels define the main area of integration from your content to social networks. In this optimized area, the required authorizations are simply granted according to your account profile.
Types of Channels supported in AutoTweet
Facebook Page and Group channels
Twitter channels
LinkedIn Profile, Company and Group for Partners channel
AutoTweet plug-in implements the largest Joomla! ecosystem hub for social networking. The social hub is outside the range of other sharing solutions, including all plug-ins in a handy package.

RSS Feeds grabber

To enrich your auto-posting from native content, RSS Feeds grabber provides a boost to social timelines adding complementary posts to the main topics.
Additionally, if you look for more, you can take advantage of more social networks (namely JomSocial, Scoop.it or Tumblr), post scheduling, repeats, evergreen posts and a virtual manager, you can easily upgrade to Joocial.
62 user reviews in Joomla! Extensions Directory
An immense number of 62 user reviews roars for AutoTweetNG PRO as the most popular extension for Social Share Auto-Posting for Joomla!. In addition, the total number of user reviews for the whole family (Auto Tweet Free, Auto Tweet NG Pro and Joocial) is 149!
Very useful and powerful extension
Functionality: Very good. Ease of use: It's ok but on the first time you must understand a few things. Support: Excellent. Really. They help in a few hours. Documentation: It's clean and useful. Sometimes you must predict what the author wanted to write. Value for money: It's fair.

Damian - Source: JED
AutoTweet saves time
Functionality: This product can automatically tweet and post for you. Also use it to capture content from RSS feed and reformat it into articles. Ease of use: Pretty straightforward, but involves lots of settings. So take your time and have patience. Support: Did not need support. Documentation: The tutorials are very helpful. Value for money: Very good.

Craig - Source: JED
Plug-ins for Joomla! extensions included in AutoTweet and Joocial
AutoTweet can auto-publish content from the following Joomla! extensions to social networks.

Joocial-enabled plug-ins support extended features: integrated Post Management, Post Editor Button and Toolbar, evergreen posts and front-end/back-end user interfaces.
Content Source

Integrated extensions
Plugin Features

Integration characteristics
Other integrated Joomla! extensions via 3rd party plug-ins
If your component is not included in the list, you can load the content as an article. You can also recommend us to check and develop the plug-in.
Auto-Tweet Screenshots, Tutorials and Demo site
Screenshots
The following screenshots have been generated from Joocial News demo site, capturing auto-published content in a desktop view and a mobile device view. As part of our social media management strategy, we operate the Joocial News demo site. In this way, we have a perfect leading case to show what can be achieved creating a news site based on +20 RSS Feeds to distribute content messages to our social channels. Joocial for Joomla! CMS is a real social media content management.
Content auto-published from Joomla! to a Twitter channel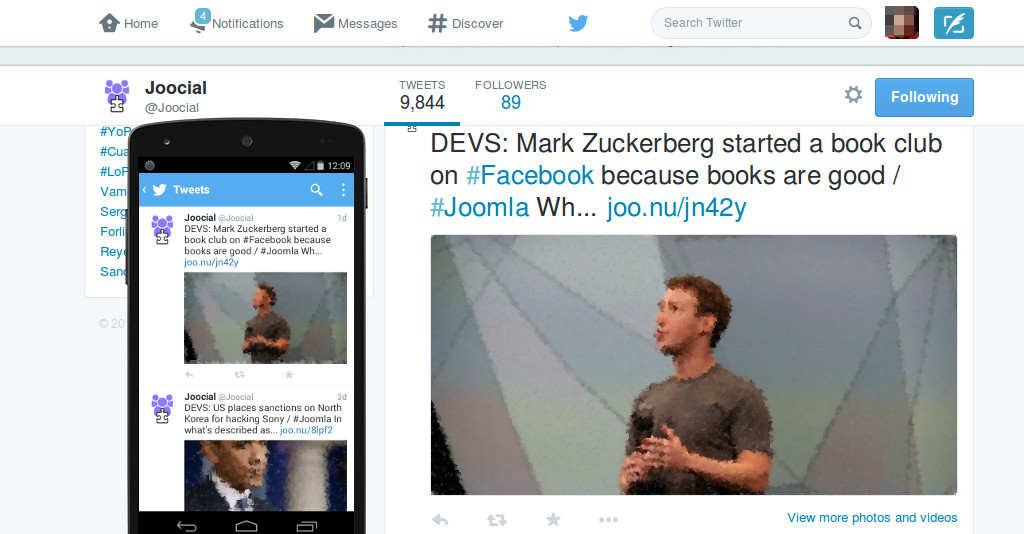 Content stream generated in https://twitter.com/Joocial
Content auto-published from Joomla! to a LinkedIn channel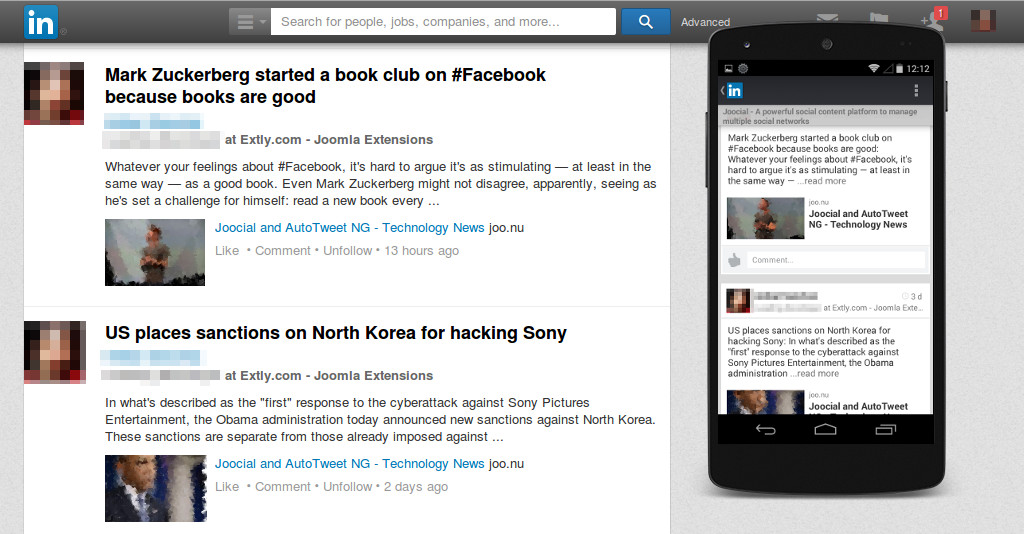 Social Composer for AutoTweet
AutoTweet has a powerful editor to create and edit social posts. In this way, you can create new messages to follow the same content defined strategy than the rest of the posts.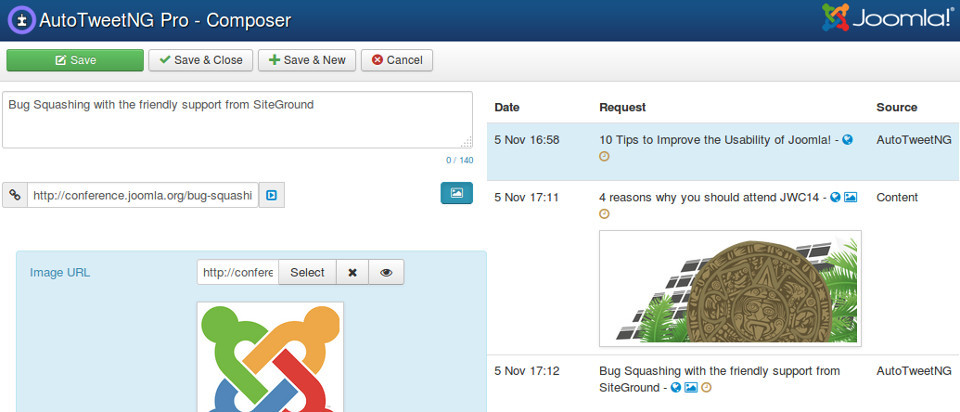 AutoTweet is ready for Multiple Social Channels
AutoTweet allows any number of channels to distribute generated content into multiple social networks.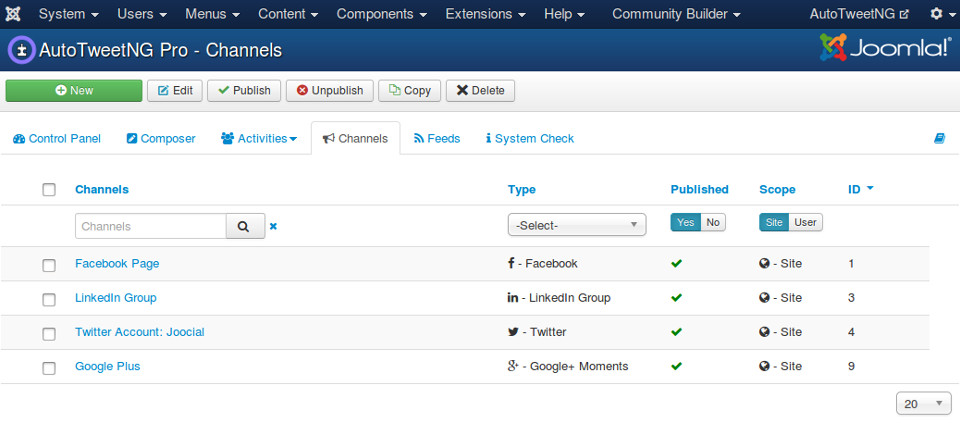 AutoTweet has a high powered Rule Engine
Combined with multiple channels, the rule engine allows you to route and customize messages in the road to be distributed.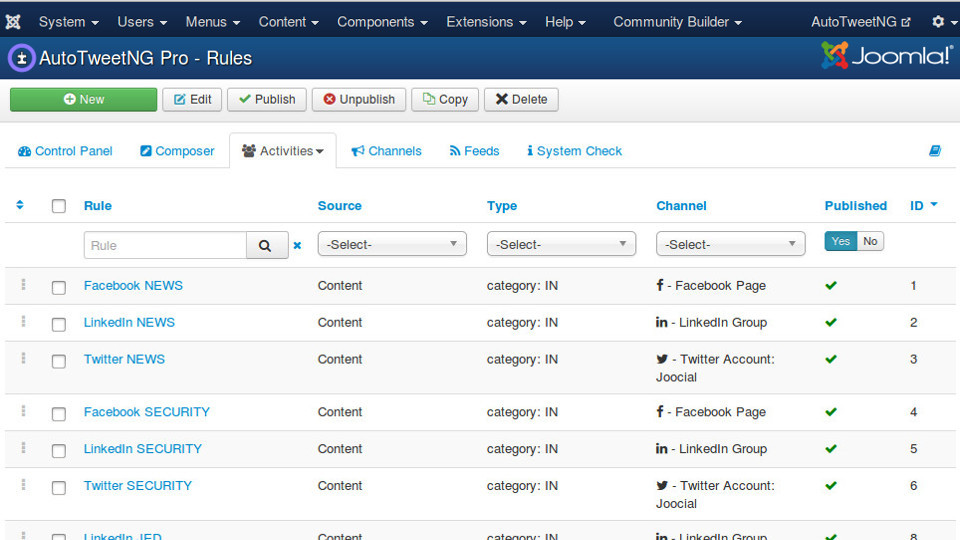 Tutorials
We have created detailed tutorials for every step of the installation and configuration of the social auto-publishing process. You can review the list of tutorials here on the documentation site