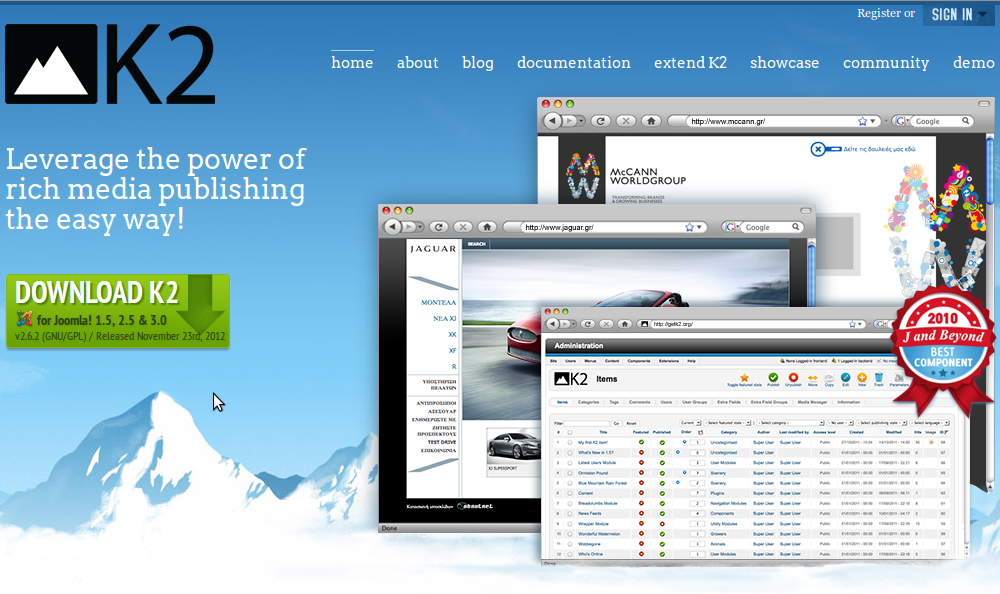 AutoTweet NG Free is a Joomla! extension to automate post publishing to Facebook, Twitter, LinkedIn and more. AutoTweet-K2 plugin integrates K2, the powerful content extension for Joomla, with Joomla! and AutoTweet.
AutoTweetK2 plug-in allows to directly auto-post articles from K2 to all social networks.
For starters, when an author creates a K2 article (content item), AutoTweet Free, integrated via AutoTweetK2 plugin, generates a content request and auto-tweets a message to the enabled social networks: Facebook, LinkedIn, Twitter and more.
AutoTweetNG for K2 plugin (standalone) is now included in AutoTweetNG Pro.
Begin with social content management via Joomla, K2 and AutoTweet
AutoTweet NG Free and K2 have a set of features for seamless automated auto-posting in a straightforward way.
What is the main difference between AutoTweetNG and Joocial?

AutoTweet is mainly oriented for unassisted auto-posting, you just keep using Joomla as usual, creating articles or other content items. AutoTweet PRO includes all available plug-ins.

On the other hand, Joocial has all AutoTweet's features plus advanced features for social management. For instance, Joocial has a "publishing agenda" to repeat Posts, or "working hours" to define when your audience is online. In a real life scenario, a publisher can create a new content item and define the social impact, associating media attributes.
Content auto-published from Joomla! K2 to a Facebook Company Page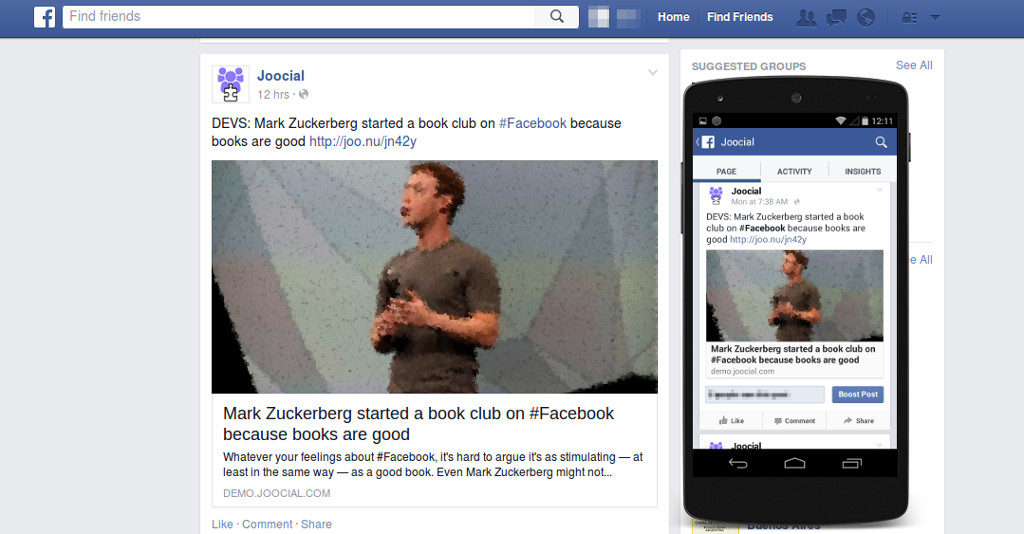 Content stream generated in https://www.facebook.com/Joocial
Once you have a good grasp on social media management, and you are ready to integrate more Joomla! extensions or take advantage of more social networks (namenly JomSocial, Scoop.it or Tumblr), post scheduling, repeats, evergreen posts, and a virtual manager, you can easily upgrade to either AutoTweetNG Pro or Joocial:
AutoTweet and Joocial versions
AutoTweetK2 plug-in configuration for Joomla! and K2
Autopublish

If autopublish is set to Yes the message is posted when you publish it. Otherwise, you must approve it in Posts list/Publish.

Template for message

The message template will be published to social networks. Available tags: [title], [alias], [introtext] or [extra_field_ID] (for example, [extra_field_3]).

K2 Image Size

Include in the post this image size.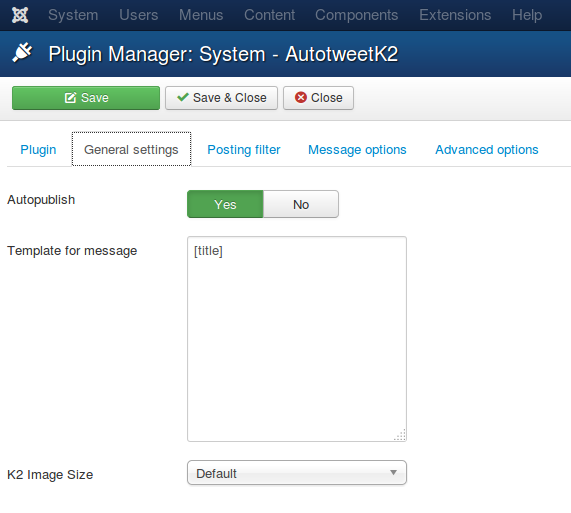 Categories

Select categories to filter content items. IDs of categories separated by comma (e.g. 1,2,3,4,5). By default, messages from all categories will be published.

Excluded Categories

Select categories to exclude content items. IDs of categories separated by comma (e.g. 1,2,3,4,5).

Post modified

By default, only new content items are processed. Enabling this setting allows to also process modifications.
Show URL

Choose if URL can be showed as link at the beginning or end of the status message.

Show Categories

Choose to show categories at the beginning of the message.

Show Category as Hashtag

Show Category represented as a hashtag.

Show Tags as Hashtags

Defined content tags are included as hashtags

Use Title or Text

Choose to create the message from title or text.

Number of chars to use

Enter the number of chars to process. Every social channel applies additional restrictions, namely Twitter 140 characters.

Static Text Source

Insert a static text in the message from this source

Metakey Count

Number of metakey words to include.

Custom Static Text

Enter a static text that is inserted into the message.

Static Text Position

Choose static text position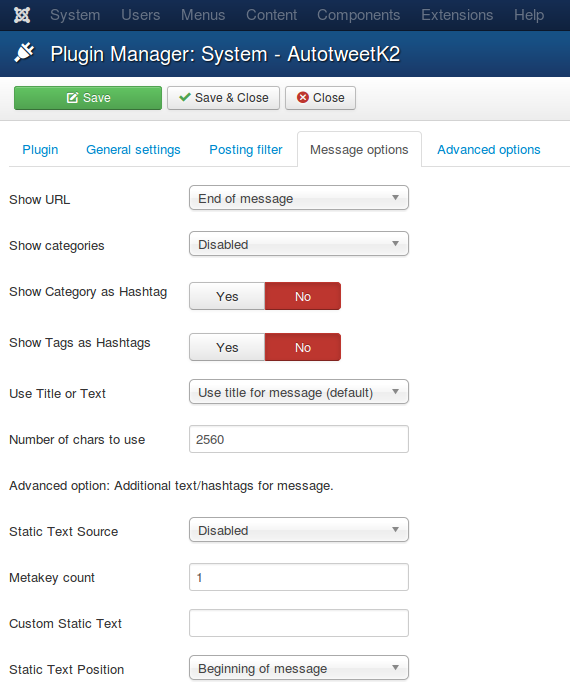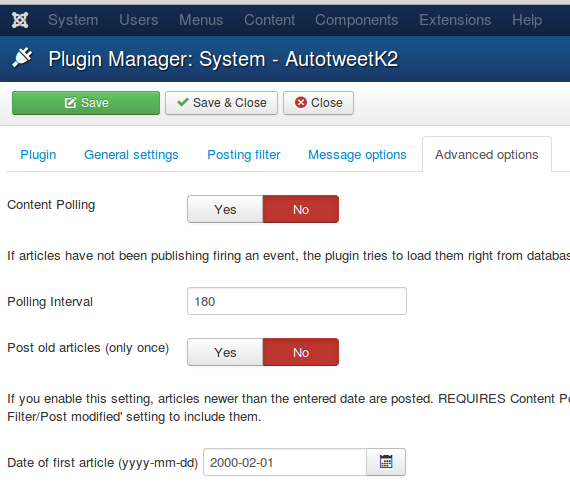 Content Polling

If articles have not been publishing firing an event, the plugin tries to load them right from database. It's required if your are going to repost old articles.

Polling interval

Interval to check for new articles. Plugin checks every X seconds for new articles in the database.

Post old articles (only once)

If you enable this setting, articles newer than the entered date are posted. REQUIRES Content Polling. Additionally, if articles have been MODIFIED, activate 'Posting Filter/Post modified' setting to include them.
Auto-Tweet Screenshots, Tutorials and Demo site
Screenshots
The following screenshots have been generated from Joocial News demo site, capturing auto-published content in a desktop view and a mobile device view. As part of our social media management strategy, we operate the Joocial News demo site. In this way, we have a perfect leading case to show what can be achieved creating a news site based on +20 RSS Feeds to distribute content messages to our social channels. Joocial for Joomla! CMS is a real social media content management.
Content auto-published from Joomla! to a Twitter channel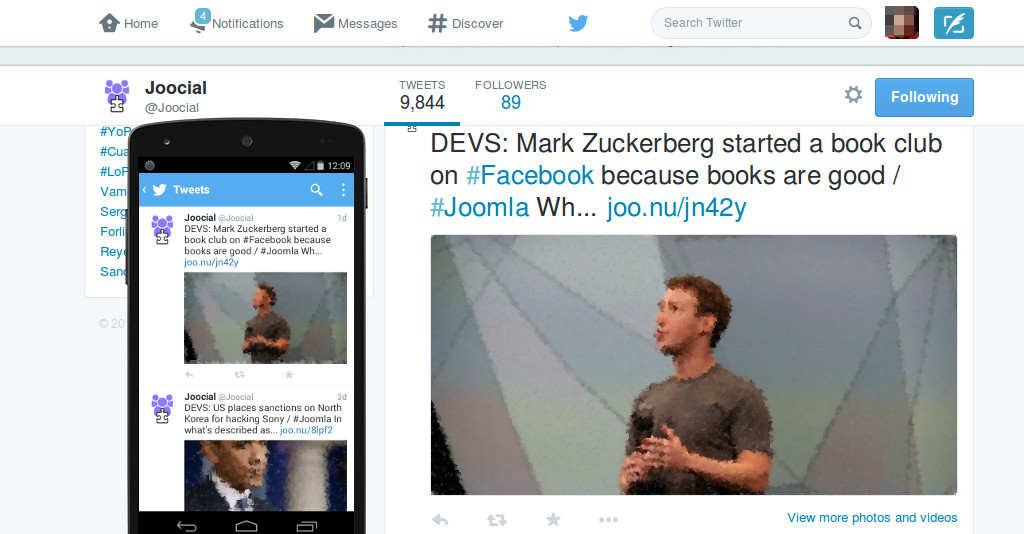 Content stream generated in https://twitter.com/Joocial
Content auto-published from Joomla! to a LinkedIn channel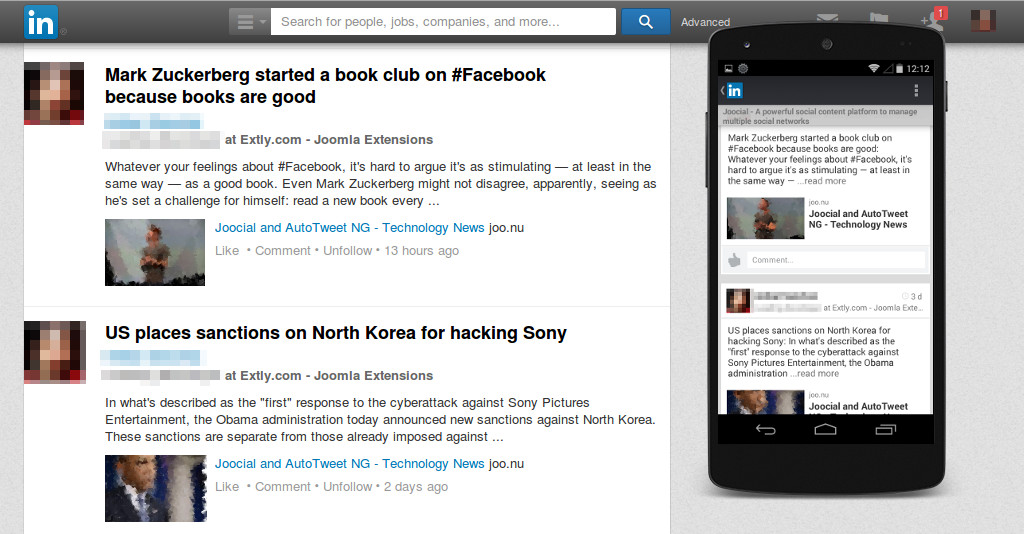 Content stream generated in http://www.linkedin.com/groups?gid=4918126&trk=my_groups-b-grp-v
Content auto-published from Joomla! to a Google+ channel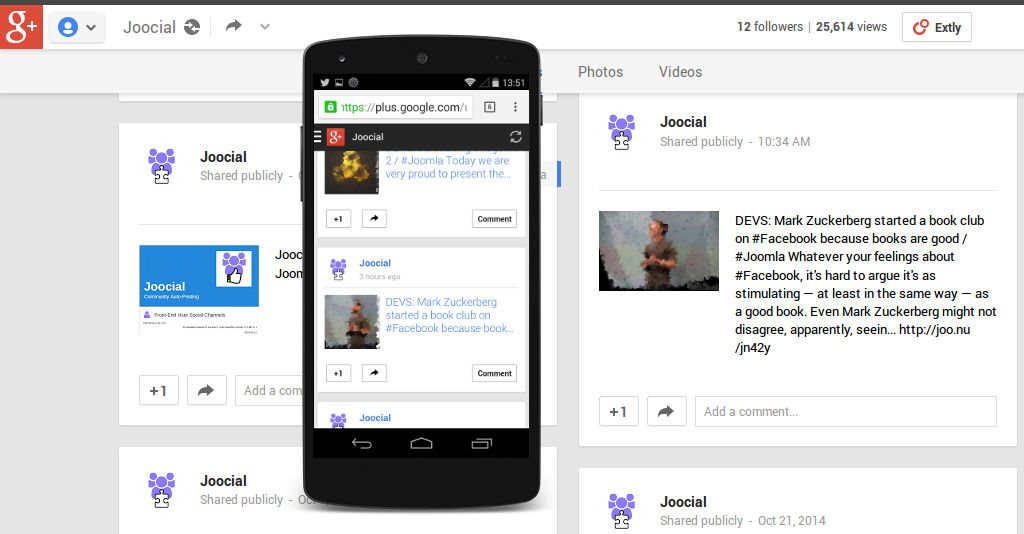 Content stream generated in https://plus.google.com/+Joocial
Social Composer
AutoTweet has a poweful editor to create and edit social posts. In this way, you can create new messages to follow the same content defined strategy than the rest of the posts.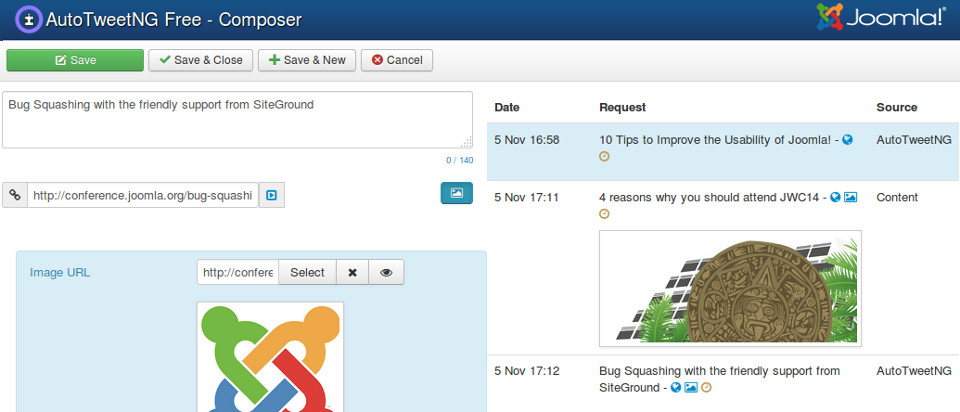 Tutorials
We have created detailed tutorials for every step of the installation and configuration of the social auto publishing process. You can review the list of tutorials here in the documentation site. To have a first approach on how the autotweet generator process works, please check the following tutorial:
Tutorial: K2 Social Content Management
K2 Social Content Management - Online Web Presentation
Adobe PDF | Microsoft PowerPoint PPTX