This is a Monster Update for the product! Help us to discover the latest improvements & bugs! LAST WEEK, before launch.
Please. check the product presentation for more screenshots: AutoTweetNG for Joomla 3: The New Social Management Model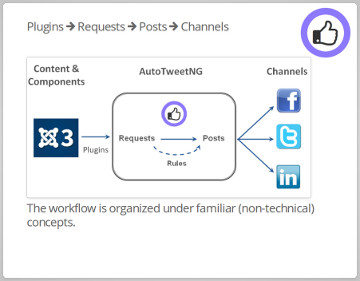 As a final step, we are releasing AutoTweetNG v6.4.0 - RC 1.
New Joocial Meter.
Channels - Requests - Posts - Rules Organization.
Improved Grid Navigation.
New Manual Posts.
Twitter pic.twitter support
Update & Migration for previous versions
Resquest/Post Audit Information
Twitter and LinkedIn Channel Validations
VirtueMart, JReviews v2.4, IProperty, Joom Donation, JomSocial, EasyDiscus, EasyBlog, SobiPro, and Ohanan plugins
Latest Posts Module
FoF v2 - Framework on Framework
Support for Joomla 2.5 and Joomla 3.0 in the same extension.
Fully optimized and renewed product.
Installation Notes
Joomla 2.5 or Joomla 3.0 are required.
Recommended PHP 5.3 or superior.
Next Steps
Please, let us know if you have any question / feedback.

Thank you for your continual support!
Kind Regards,
Support Team