XTDir - Extended Directory for SobiPro
XTDir for SobiPro is our brand new solution to support a powerful new directory model, based on SobiPro.
This version is based on your feedback, Thank you!
We're organizing our modules, plugins and apps under a single component for the sole purpose of extending SobiPro native features.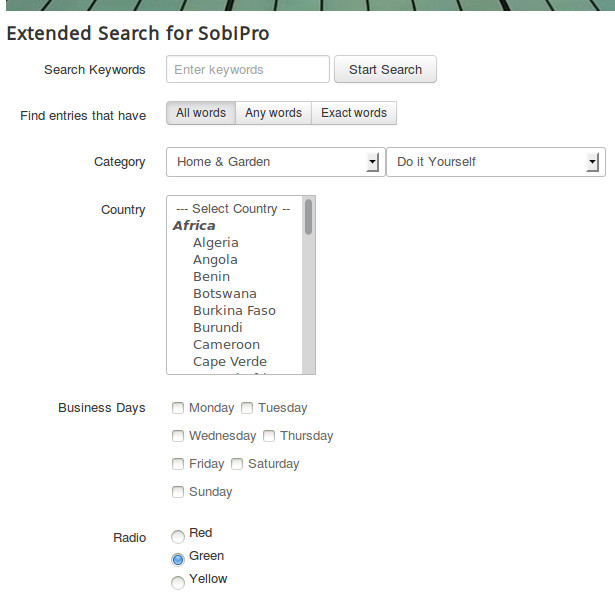 The new extension XTDir ALPHA 1 version is available and ready to be downloaded for all current Search Power Pack members.
This is an Alpha version. It is not recommended to be used in production, only compatible with SobiPro 1.1 Beta 2 in Joomla 2.5/3.0.
UPDATE: XTDir Alpha 1 also runs in current SobiPro 1.1 v1.0.8. http://demo.extly.com/xtdir.html
Check it here:
We are also improving the original implementations, and adding long standing requests (Eg: search form memory).
In this version, we've included:
Extended Search Form for SobiPro Module
Extended Search Form for Joomla-SobiPro
Categories of SobiPro Module
Categories of SobiPro - DropDown Menu Module
Categories of SobiPro - Top Ranking Module
Categories of SobiPro - SobiPro 1.1 Style Module
Tree of Categories Module
What's new
All extensions are installed in a single installer
All of our SobiPro extensions are managed by a configuration component, to simplify the administration.
Extended Search Module has been splitted into two modules: "Extended Search Form for SobiPro" module and "Extended Search Form for Joomla-SobiPro" module.
Categories for SobiPro includes the Tree of Categories as new layout.
Joomla Search Plugin and Statistics are managed by the component, with a simplified configuration
All extensions are supported in Joomla 2.5 and 3.0, by now only with SobiPro 1.1 Beta 2. We expect to support also current stable SobiPro 1.0.8.
Directly integrated with SobiPro API (native integration).
Support of category search based on the new

SobiPro Category Search.

Search SaveForm: the search forms remember the values.
Javascript stack is powered by jQuery, Bootstrap, RequireJS, Underscore, Backbone, jquery.chained, XTSaveForm, and jsTree.
Powered by FOF - Framework on Framework