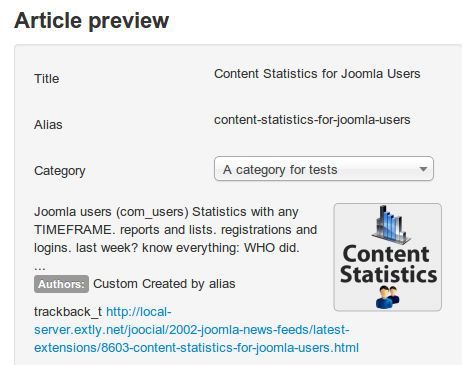 Next version of AutoTweetNG is coming with a great new feature to nicely improve your community news: RSS Feeds Import.
We've been testing the concept in our Joocial.com site, loading relevant Joomla news from RSS Feeds, and re-publishing to our Facebook, Twitter, and LinkedIn channels.
And, now, we are adding native support for RSS article generation, combined with posts from Joomla to social channels like Twitter, Facebook, LinkedIn and more.
Features:
Multiple RSS Feeds support
Content Publishing Options and Multi-language support
Content Creation: Text Edition & Validation, Links, and Trackback Links.
Filters: Duplicates check, Import Filters, HTML Filters, and Text Filters.
Libraries SimplePie v2.3.7, Readability v1.7.1, and htmLawed v1.1.15.
Compatible with Joomla v2.5/3.1, or superior (ready for Joomla v3.2 Alpha2)
Developed with FOF - Framework on Framework.
Based on the venerable FeedGator v2.3.7 for Joomla 1.5.
 Exciting times are coming!