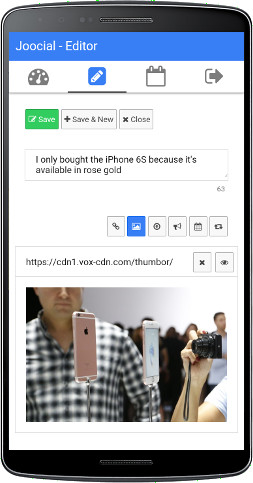 Mobile Apps for Joomla! are coming. At this time, we are glad to introduce Joocial Composer App.
Breaking new grounds, Joocial Composer App is a mobile app to manage your social content management from your Joomla! CMS site.
In a nutshell, Joocial Composer App has the core features to create and publish posts from Joomla!
Control Panel - Stats: A control panel, to show general operation stats
Composer Editor: An advanced form to enter or edit social posts, with custom control types.
Requests list: A list of posts: to navigate and manage social posts
From a technical point of view, it is powered by JoomGap. JoomGap is a solution to integrate hybrid mobile apps and Joomla! on an OAuth secured communication.
We have just released:
Both technologies work together to connect and manage social content in Joomla!.
In September-October 2015, we plan to complete all features, release the app for Apple Store and release the final AutoTweet / Joocial next major version.
To test the current release, you only have to download AutoTweetNG PRO or Joocial 8.0.6 BETA 2 and install Joocial Composer App 1.0.1. Please, check these steps to enable OAuth integration to your site: Joocial Composer App - How to enable the mobile App access
To the moon!