Today we are incredibly excited to introduce Joocial 9 Alpha 3 release of our future hub for CMSs. This is mainly an internal milestone, but it marks the point where the new software is fully operational. All the moving parts are defined and working as expected.
Joocial 9 aims to provide a better toolkit for post sharing running everywhere: iOS, Android, Desktop, and on the web as a Progressive Web App.

Joocial 9 will offer a consistent user interface to handle social content management on the underlying platform in a portable, cross-platform way. That means the Joocial app will work no matter where it runs.
Features of Joocial 9
Joocial 9 has some handy features:
A New Usage Scenario for Joomla optimized to be intuitive.
The same user experience on desktop and the mobile app for Android and iOS.
A Simple Plugin model (no more optional plugins).
Translations will be provided in the following languages: English, German, French, Spanish, Italian, Portuguese Brazil, Dutch and Polish. More languages will be added after the initial release.
Rebuilt on strong quality assurances (automated end to end testing) 
That's a long way of saying there are cool features in Joocial we think our users will appreciate.
Screenshots
As a glimpse of how it is working today in our testing sites, in the following screenshots, we can show how the new Composer and the Channels are managed in the new user interface:
New Mobile App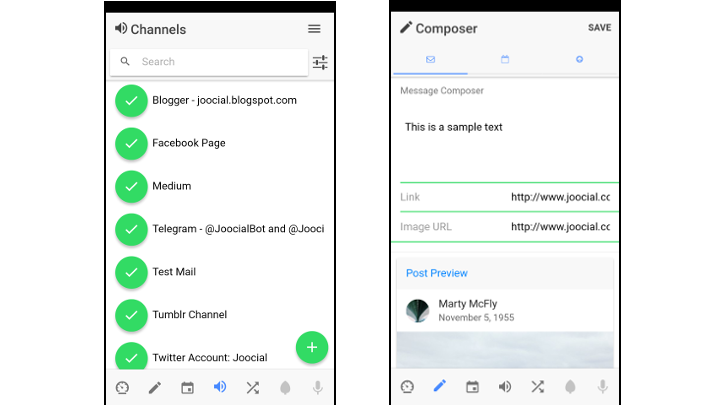 New Channel Navigation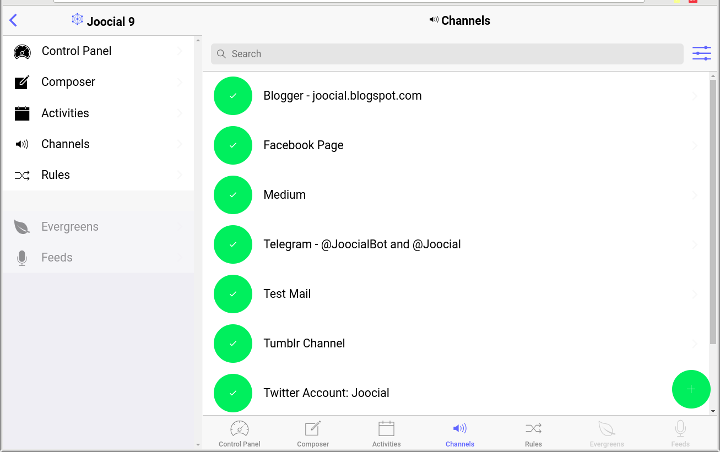 New Composer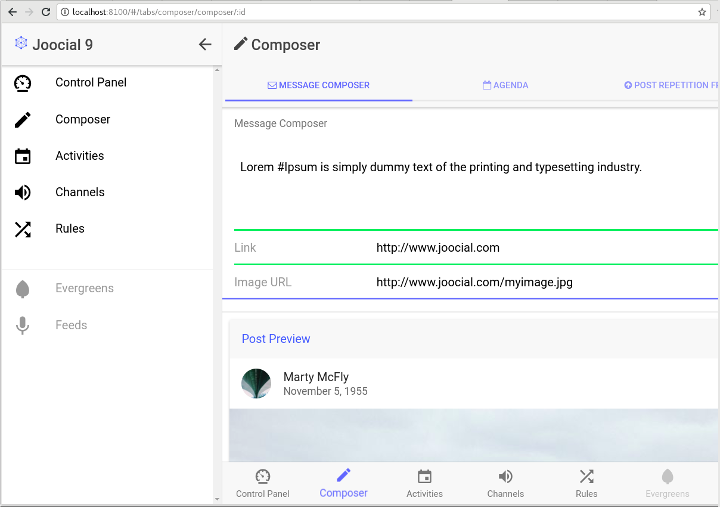 Migration?
No migration. The new version is going to be fully compatible. It will be installable side-by-side with the current version 8. We expect to support both versions at least for one year.
Deprecations
In the upcoming release, we are going to remove features that were defined ages ago, they have been with us for years, but they are no longer actively used.
Plugins and Settings will be removed/simplified.
Paywall Mode
Community Auto-Posting
Front-End User Channels
Jootool, Front-End Management. The whole extension will be available on the front, back and in the mobile app.
We are going to need your feedback!
Today's alpha release represents more than one year and a half of hard work over thousands of commits, and we're just getting started. Joocial 9 is not production ready yet, but we hope to be at that point soon. For Joocial 9 to move forward, we are going to need your feedback and testing.
In the next months, we are going to publish a series of Beta versions for testing. To simplify the testing, the new Joocial 9 will be installable side-by-side with the stable version. So, you will be able to test the new shiny feature along the current installation.
To the moon!