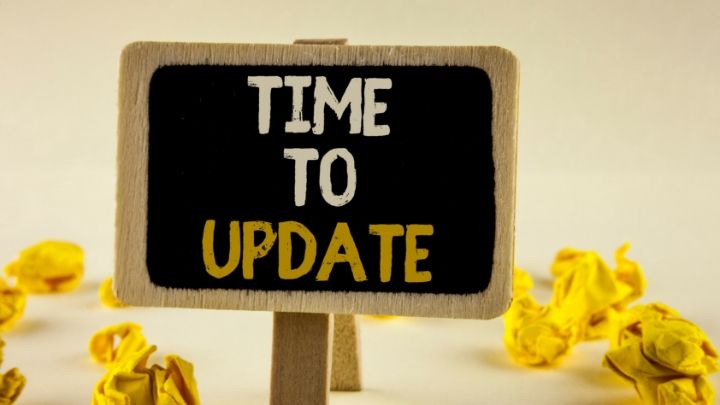 Keeping your website updated has several benefits, among which we can mention getting the latest features and bug fixes. But without a doubt, the most important thing is to keep your site safe, because by updating it, you get the newest vulnerability security fixes, and avoid problems.
Today, keeping your Joomla site updated is very simple. Here we'll describe the process, but first, let's talk about Joomla.
What is Joomla
Joomla is a free and Open Source Content Management System (CMS) for publishing web content. Over the years Joomla has won several awards. It is one of the most popular website software since the platform is user-friendly, extendable, multilingual, accessible, responsive, search engine optimized, and so much more.
Latest versions of Joomla
These are the last three minor versions of Joomla and its main features:
Joomla 3.7:Released on April, 2017, this version of Joomla came with more than 700 improvements, among which we can highlight as the most important the introduction of custom fields, the multilingual associations component, and an improved workflow, that allows creating a menu item, an article and also a category, all in one step.
Joomla 3.8: Five months later, Joomla 3.8 was launched with more than 300 improvements, including a new routing system that allows users greater control over their URL structure and the beginning of the forward compatibility layer for Joomla 4.0 (next major version).
Joomla 3.9: A year later, Joomla 3.9 came with over 250 improvements, of which the most important has been the Privacy Suite, a system related to law and regulation, that provides several subsystems that help Joomla websites to comply with them (EU GDPR)
How to update Joomla
Now, knowing which are the latest versions of Joomla, it's time to talk about how to update your website to take advantage of all these features.
First of all, and as good practice before updating any software, make a backup of your website. This step is fundamental to be sure that if there's a problem during the update, your data is safe and you can go back to the original state.

If your website has Joomla 3.5 or superior, the recommended way to update is using the Update tool, found in the Components menu of the Administrator area.
Updating earlier versions? You must use the Install Method.
Each time a new version is released, you will see this message: Joomla 3.9.X is available. Update now

In the Update component, you will find the current version of the site, the latest version available and a button to Install the Update. Click the button and allow the update to take place.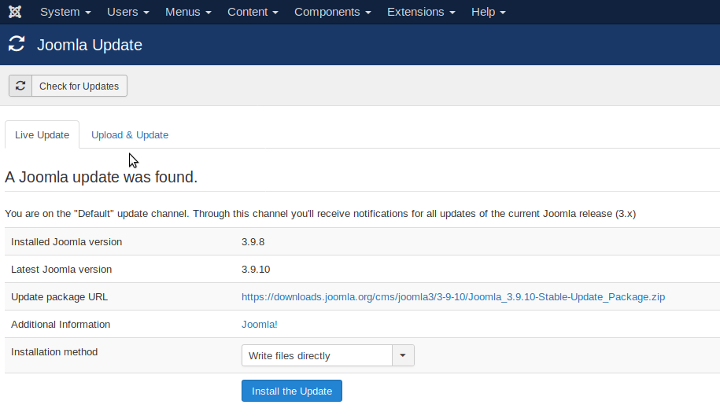 After this step, you will get the following update status: Now your version is 3.9.X.
Once the update is complete, it is recommended to clear your browser's cache so that you can check your website and make sure the update has been done correctly. Besides, there are two checks you can do to verify a successful update. Go to the Extensions Manager, check the Database Status, and go to Discover to find if there are new core extensions successfully installed.