AutoTweet and Joocial User's Guide
Overview and Quick Setup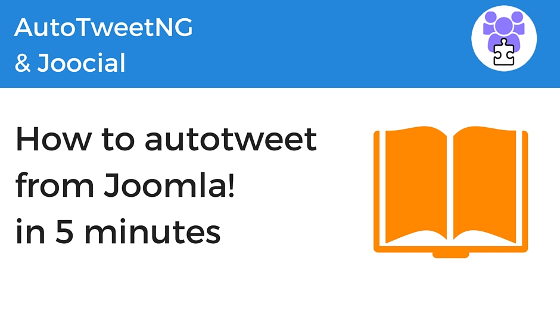 How to test a quick Post
Create a Social Channel or a Mail Channel for testing
Create a new article. Alternatively, you can create a message in the Composer
Check the Requests list
Visit your Front-end site. In Page Load mode, every 2-3 minutes a Request is processed
Check the Posts list
Visit your Front-end site. In Page Load mode, every 2-3 minutes a Post is processed
How it works
AutoTweet is implemented by the main component, plugins and modules. The component allows managing messages (requests and posts), channels, rules, and feeds.
AutoTweet's Extension Plugins handle the integration with Joomla! content and third-party extensions, for example K2, EasyBlog, FlexiContent, Zoo, JomSocial, SobiPro, JCalPro, JReviews among others. All extension plugins require AutoTweet component.
Main component: component to manage messages and core services.
System - AutotweetAutomator plugin: core plugin oriented to automate the publishing operations. Messages are enqueued and published by the Automator-Plugin. Thus, Automator-Plugin MUST be installed and enabled.
System - AutotweetContent plugin core plugin to integrate Joomla! content articles. This plugin also supports other content extensions implementing Joomla! content events and Content Polling.
System - Social Profile Links for Google plugin to include your social profile in google's search results.
AutoTweet Extensions Plugins: Optional plugins to integrate specific extensions. Please, check the full list of integrated extensions here.
Joocial Extensions Plugins: Optional plugins to integrate AutoTweetNG + Joocial management features. Please, check the full list of integrated extensions here
Social Publishing Process

These are the steps of the social publishing process:
An AutoTweet Extension plugin receives content events (via Joomla! events or content polling) and stores messages in Requests list. A Request is just a light notification.
Autotweet Automator plugin executes:

to process messages waiting in the Request list,
apply Rules, and
create Posts for each Channel,
finally, publish each channel-specific post.

Alternatively, the process can be automated with a Cron job task.

If RSS Feeds are enabled and configured, Autotweet Automator plugin also reads RSS Feeds and create articles.
The process is executed in several steps. Since, it opens connections with external services, social networks and websites, it executes in an asynchronous way to avoid server overloading in an efficient way.
Frequently asked questions
For more information: https://www.extly.com/docs/autotweetng_joocial/installation/faq
Troubleshooting
For more information: https://www.extly.com/docs/autotweetng_joocial/installation/troubleshooting