Details

Parent Category: Extly Products
Category: Utilities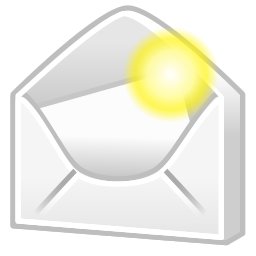 A final solution to integrate AcyMailing!
"AnyMail provides a way to add High-Level Business Rules. For example, a mailing list for each JomSocial Group."
In a nutshell
AnyMail automagically adds users to mailing lists.
A mailing list for each JomSocial Featured User
A mailing list for each SobiPro Category
Anymail has been discontinued to focus our efforts on our main extensions.
How it works
By default, when you install Anymail, it has 3 tasks already created, to support the most common cases, and working examples.
Each task has a Frequency and a SQL Business Rule to retrieve users and add them into the associated mailing list.
In our sample rules, lists are associated by name. AcyMailing list for a JomSocial Group has to be defined with the same name. E.g. An AcyMailing list named "Business"  for a group named "Business". If there's no list named like a group, new users in a group are not added to any list.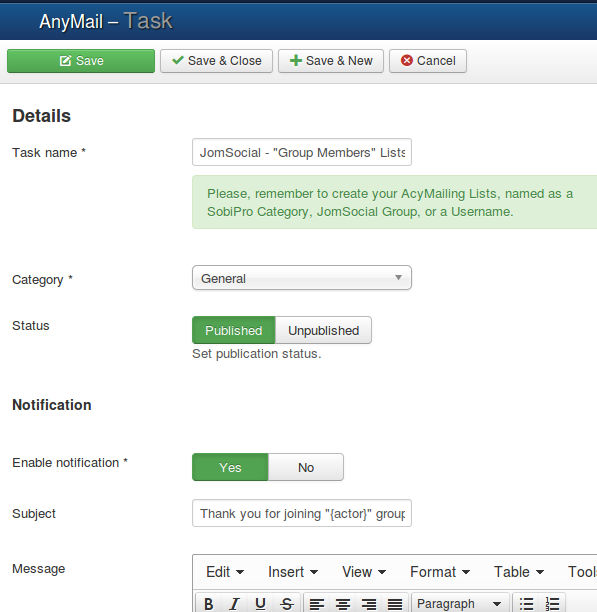 Following the defined Frecuency, each task executes, and adds new subscritors to the associated AcyMailing List. The task can also notify the user about the new mailing subscription.
For example: JomSocial - "Group Members" task looks for new users in a JomSocial group and adds them into the associated Mailing list. If you have a group named "Running Fans", and an Acymailing List named "Running Fans", when a user joins this group, Anymail adds him into "Running Fans" mailing list.
Examples & Demos
JomSocial Group Members Rule: when a user joins a group, user is added to group's list
JomSocial User Friends Rule: when a user is added as a friend, friend is added to user's list.
SobiPro Category Users Rule: when a new entry is added, user is added to a category list.
Features
JomSocial rules: User Friends Rule and Group Members Rule
SobiPro rules: Category Users Rule
Generic rules
Requirements
Joomla! 2.5/3, or superior
JomSocial 2.2/3, or superior
SobiPro v1.0.8, 1.1, or superior
License
License: GNU General Public License v3.0
Usage license will never expire. You can use the software FOREVER.
Unlimited sites or domains.
During the subscription period, you can download new versions, with major features and minor fixes/enhancements, or request assistance in our ticketing system. Once the subscription is over, you can renew it, or create a new topic in the community forum.
You can use the software on ALL YOUR sites under the terms of GPLv3.
No part of our source code is encoded.
Change Log
Updates in 2.0.0
Compatibility with Joomla 3
Updates in 1.0.0