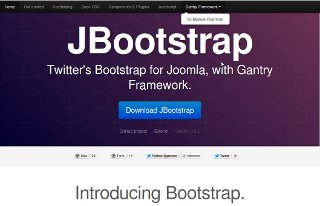 Twitter's Bootstrap for Joomla
"JBootstrap is a solution to combine Joomla and Bootstrap in a full template. To help us in the backend management, we have also integrated the powerfull RocketTheme Gantry framework, as platform to build the theme."
In a nutshell
Bootstrap is a simple and flexible HTML, CSS, and Javascript for popular user interface components and interactions.
Gantry is a sophisticated framework with the sole intention of being the best platform to build a solid theme with.
We've already researched and done the hard work to combine both technologies in one single package. Now, it's ready to support Bootstrap on Joomla 2.5!
JBootstrap has been discontinued to focus our efforts on our main extensions.
Examples & Demos
JBootstrap Demo - Our JBootstrap demo. Check out it here!
JBootstrap Blog Demo - A blog with Joomla, Bootstrap, jQuery, and RocketTheme's Gantry framework.
Features
Bootstrap
Built for and by nerds

Like you, we love building awesome products on the web. We love it so much, we decided to help people just like us do it easier, better, and faster. Bootstrap is built for you.

For all skill levels

Bootstrap is designed to help people of all skill levels—designer or developer, huge nerd or early beginner. Use it as a complete kit or use to start something more complex.

Cross-everything

Originally built with only modern browsers in mind, Bootstrap has evolved to include support for all major browsers (even IE7!) and, with Bootstrap 2, tablets and smartphones, too.

12-column grid

Grid systems aren't everything, but having a durable and flexible one at the core of your work can make development much simpler. Use our built-in grid classes or roll your own.

Responsive design

With Bootstrap 2, we've gone fully responsive. Our components are scaled according to a range of resolutions and devices to provide a consistent experience, no matter what.

Styleguide docs

Unlike other front-end toolkits, Bootstrap was designed first and foremost as a styleguide to document not only our features, but best practices and living, coded examples.

Growing library

Despite being only 10kb (gzipped), Bootstrap is one of the most complete front-end toolkits out there with dozens of fully functional components ready to be put to use.

Custom jQuery plugins

What good is an awesome design component without easy-to-use, proper, and extensible interactions? With Bootstrap, you get custom-built jQuery plugins to bring your projects to life.

Built on LESS

Where vanilla CSS falters, LESS excels. Variables, nesting, operations, and mixins in LESS makes coding CSS faster and more efficient with minimal overhead.
Get more help and find out more at: http://twitter.github.com/bootstrap/
Gantry
Gantry is a sophisticated framework with the sole intention of being the best platform to build a solid theme with. is a sophisticated framework with the sole intention of being the best platform to build a solid theme with.
Gantry takes all the lessons learned during the development of many RocketTheme Joomla templates and WordPress Themes and distills that knowledge into a single super-flexible framework that is easy to configure, simple to extend, and powerful enough to handle anything we want to throw at it.
Gantry's Key Features
960 Grid System
Stunning Administrator interface
iPhone and iPod Touch custom theme support
XML driven and with overrides for unprecedented levels of customization
Per-menu-item level control over any configuration parameter
Preset any combination of configuration parameters, and save custom presets
65 base module positions. Easily add more!
36 possible layout combinations for mainbody and sidebars
Up to 3 sidebars for a total of 4 column layouts
Many built-in features such as font-sizer, to-top smooth slider, IE6 warning message, etc.
Flexible grid layout system for unparalleled control over block sizes
Get more help and find out more at http://www.gantry-framework.org/
Requirements
License
License: GNU General Public License v3.0
Usage license will never expire. You can use the software FOREVER.
Unlimited sites or domains.
During the subscription period, you can download new versions, with major features and minor fixes/enhancements, or request assistance in our ticketing system. Once the subscription is over, you can renew it, or create a new topic in the community forum.
You can use the software on ALL YOUR sites under the terms of GPLv3.
No part of our source code is encoded.
Change Log
Version 0.6 / 2012-09-21
Gantry Framework 4.0.5
Updated Bootstrap 2.1.1
Updated FontAwesome 2.0.0
Smart LESS compiler ready, not yet working
Launcher updated to Joomla 2.5.7
Version 0.5 / 2012-08-22
Updated to Bootstrap 2.1.0
Updated to Gantry 3.2.22
New Menu, with 2nd Level Dropdown
FontAwesome added
Google Code Prettify added
Twitter Widgets added
More Compression Options
New Demo, Launcher (based on Akeeba Backup), Bundle, and template.
Version 0.5rc
Please, download the new pre-release candidate version form github.
Version 0.4 / 2012-04-28
Full review
Update, Bootstrap 2.0.3
Update, Gantry Framework 3.2.19
New Feature, Grid System (Fixed Grid /Responsive - Fluid Grid)
New Feature, Navbar Top Menu Feature
New Feature, Logo Feature
Removed, CleanJs Plugin
Optimized, nested levels
Optimized, legacy jb-* classes
Checked Features Tab
General minor fixes
Version 0.2-0.3 / 2012-03-30
Version 0.1 / 2012-03-21
Initial release
J!Bootstrap template
Bootstrap 2.0
Gantry Framework
CleanJs Plugin
Page Break Plugin
References
Bootstrap Showcase