Shows the tweets and a follow link for the specified twitter account in a module position.
Now included in AutoTweetNG Free, Basic, and PRO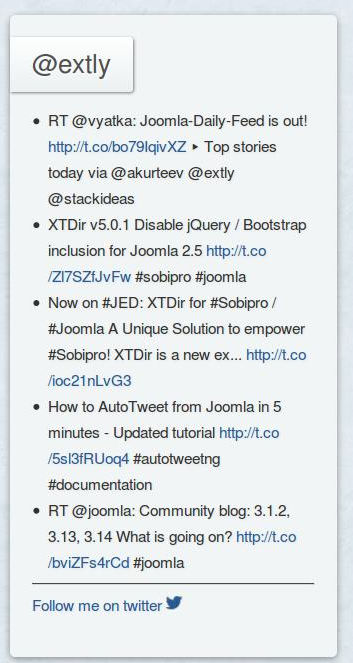 Features
Customizable: text for follow link, show icon (yes/no)
Styles are separated in style sheet (css file) for better layout customizing.
Show the tweets of the account.
Uses the twitter REST api.
Customizable: show follow link, tweet dates, parse links, follow link text, ...
Caching: The module uses Joomla caching technology to save the tweets. So you should have no performance problems and no problems with twitter api rate limiting. You can set the cache on/off and you can set an expire time for the cache. 
Requirements
PHP 5.3, or superior
PHP cURL support
Joomla 2.5 / Joomla 3.0