This plugin for Community Builder 1.2 shows the users blog entrys and rss feeds in Community Builder tabs.
Features
Tab "My Blogposts" to show the users last blog entrys.
Tab "My Feeds" to show the users rss feeds entrys. multiple rss feeds are merged to one timeline. (Note: feed entrys without date information will be droped from the timeline).
Customizable: show desc/title/date.
Styles are separated in style sheet (css file) for better layout customizing.
Caching: The PlugIn uses caching technology to save the tweets. So you should have no performance problems. You can set the cache on/off and you can set an expire time for the cache.
Requirements
PHP 5
PHP cURL support
Joomla 1.5, Joomla 2.5
Community Builder 1.2+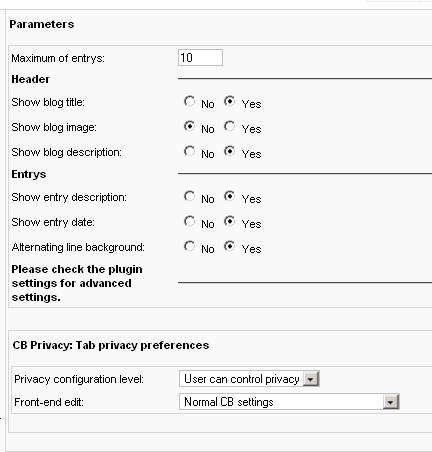 Change Log
Version 1.3.0: Fixing a bug in css file: sometimes cb tabs turned blue.
Version 1.2.0: Bugfixe: Fixes the bug 'Fatal error: Call to a member function get_date() on a non-object' that sometimes occurs.
Version 1.1.0: Bugfixe: When Joomla SEF support is not activated, the link Activate your feed is broken. Also i have fixed some problems with sh404sef.