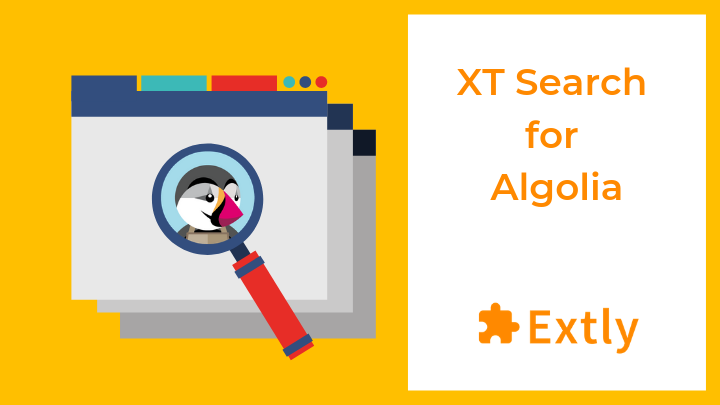 Instant Search and Autocompletion for Your Site
XT Search for Algolia integrates your site and Algolia. Algolia is the smartest way to improve search on your site. Autocomplete and Instant Search are included, along with full control over the look, feel and relevance.
Join the Club!
Get all our extensions, updates and support for 1 year, including releases of new products!
Join Now!
Benefits
For you
Integration of your site with Algolia, with no more complications than the connector configuration.
Integration with PrestaShop (Products), compatible with v1.6 and v1.7.
Search relevance: textual, business and personalization at user and group level, powered by Algolia engine.
Full Multi-lingual site search

: one single search box to query in all the site languages.
For your customers
Product Search, easier and faster. Find the right content instantly.
Improved navigation by autocompletion. Module for autocompletion.
Search beyond the box: improve the UX by browsing and suggestions.
Full Multi-lingual site search

: one single search box for all the site languages.
What is Algolia?
Algolia is a hosted full-text, numerical, and faceted search engine capable of delivering real-time results from the first keystroke. Algolia delivers products to accelerate search and discovery experiences across any device and platform.
Help customers find what they are searching for. Create frictionless find-to-conversion paths by connecting users with exactly what they're looking for, with lightning fast and highly relevant search.
Create a path for customers to discover. Go beyond the search box with navigation, browse, and content discovery experiences powered by Algolia.
Design predictive and natural interactions. Build immersive experiences that surface unexpected and relevant content to surprise and delight users.
FAQ: Do I have to buy the Algolia service?
Algolia has an offering to accommodate most project requirements. It has a COMMUNITY "Forever Free" tier and several paid subscriptions. The benefits of the COMMUNITY "Forever Free" tier are: Lightning fast search, Customizable relevancy engine, 10K Records/100K Operations, Must display "Search by Algolia". Free for non-commercial use.
For more information, https://www.algolia.com/pricing
Main Features
XT Search for Algolia has mainly three features to implement Algolia Search.
1. XT Autocompletion module
This is the primary module that renders a simple search box. This module displays search results "as you type" in an autocomplete menu using Algolia's search engine.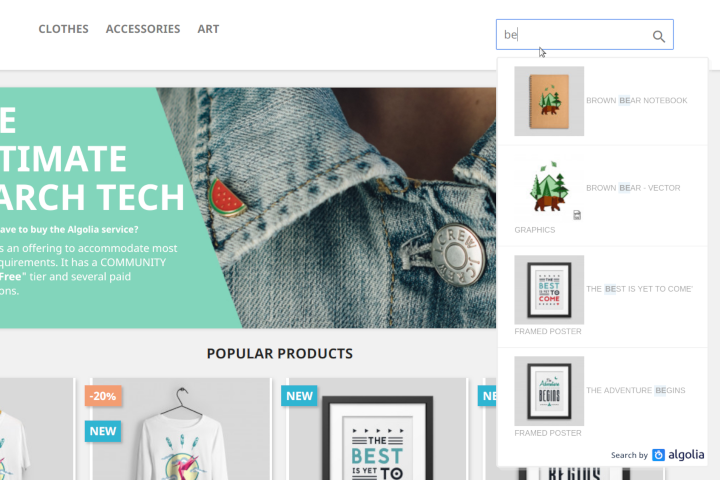 2. XT Instant Search module
This module allows creating an instant search results page where the whole page (results, filters, facets, and pagination) is updated as you type, to provide end-users with a lightning-fast search experience.
XT Instant Search for Algolia on PrestaShop 1.6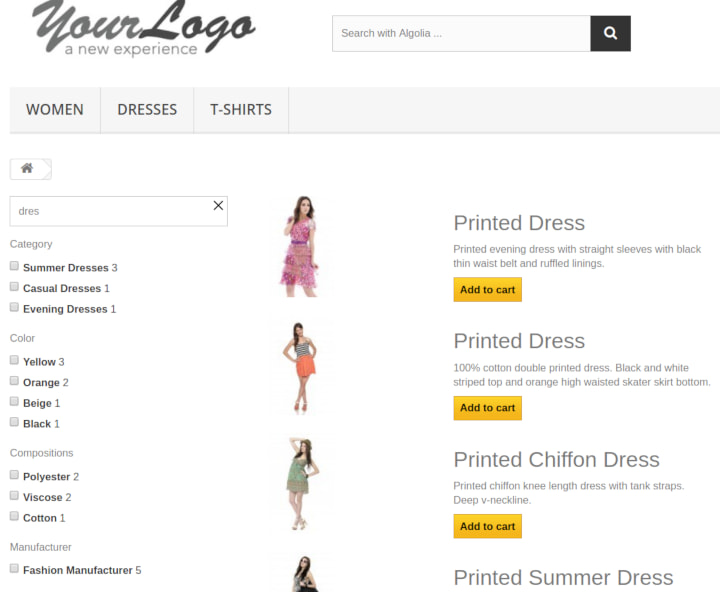 XT Instant Search for Algolia on PrestaShop 1.7
XT Indexer
The indexer process is the heart of the extension. It crawls the site and processes the information to submit it to Algolia's search engine.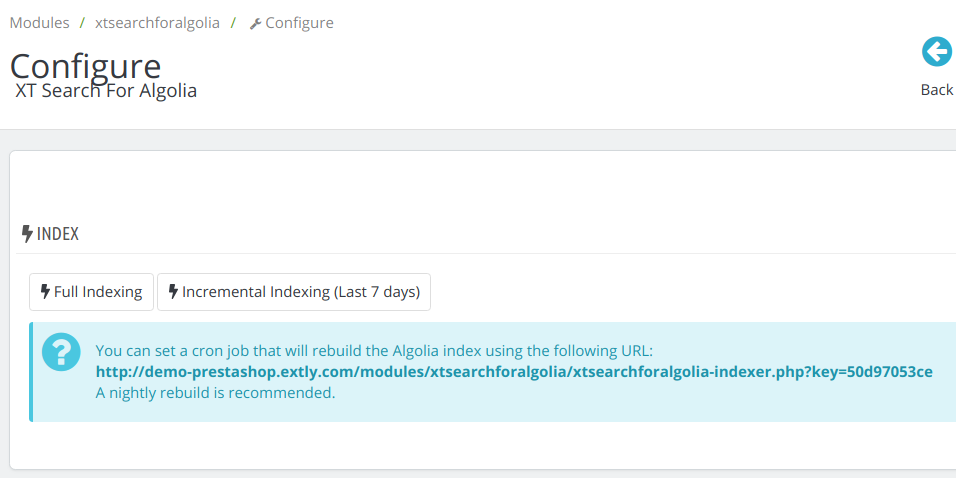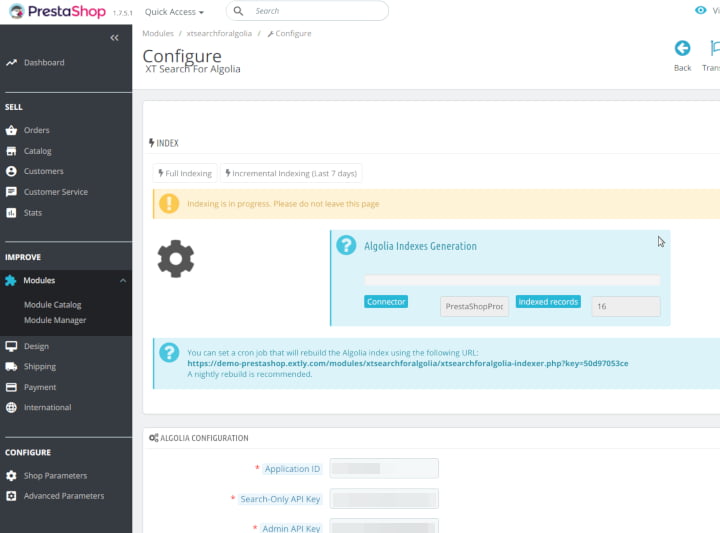 Examples and Demos
In our demo sites, you can check how XT Search for Algolia works on PrestaShop 1.6 or PrestaShop 1.7, with a sample dataset in five languages.
Demo Site PrestaShop 1.6   Demo Site PrestaShop 1.7   Documentation