# How to Autopost from Joomla! to Facebook
Updated on 2018-07-11 to include the "An App Review Study Case" tutorial"
Updated on 2018-06-04 to include Apps v2.* and v3.0
In this tutorial, we are going to show how you can autopost from Joomla! to Facebook.
# How to Autopost from Joomla! to Facebook
Prerequisites:
AutoTweetNG Free, Pro or Joocial 8.20 or superior
A Facebook account
System requirements: Joomla 3.4 or superior, PHP 5.5 or superior, MySQL 5.5 or superior (recommended)
Once you have checked the prerequisites, proceed with step 1.
# STEP 1: Download and install AutoTweetNG/Joocial
Download the extension from Extly's Download Area, unzip and install AutoTweetNG/Joocial in Joomla! backend with the standard procedure.
About AutoTweetNG/Joocial updates: Install the update with the same procedure.
Once you have proceeded with the installation:
-AutoTweetNG component has been installed -System plugin-AutotweetAutomator has been installed and enabled, to process new content and posts every 3 minutes -System plugin - AutotweetContent has been installed and enabled to publish Joomla! content.
TIP
Remember to assign your Download ID to enable all features.
# STEP 2: Setup your Facebook account
Facebook requires declaring the ownership of Pages, the associated domains and roles.
Facebook Link Ownership Guide: There are two alternatives to verify the ownership of a domain and an associated page:
Open Graph Tags: AutoTweet Facebook OpenGraph Tags plugin allows to define the pages IDs associated with your site.

Domain Verification at https://business.facebook.com/: this is the recommended procedure to verify the domain ownership.
Login at https://business.facebook.com/ with your Facebook account. Create a business account and proceed to Domain Verification
Once you business is verified, go to the Business Manager, Business Settings. There go to Brand Safety, Domains and associate your domain/s with your page/s.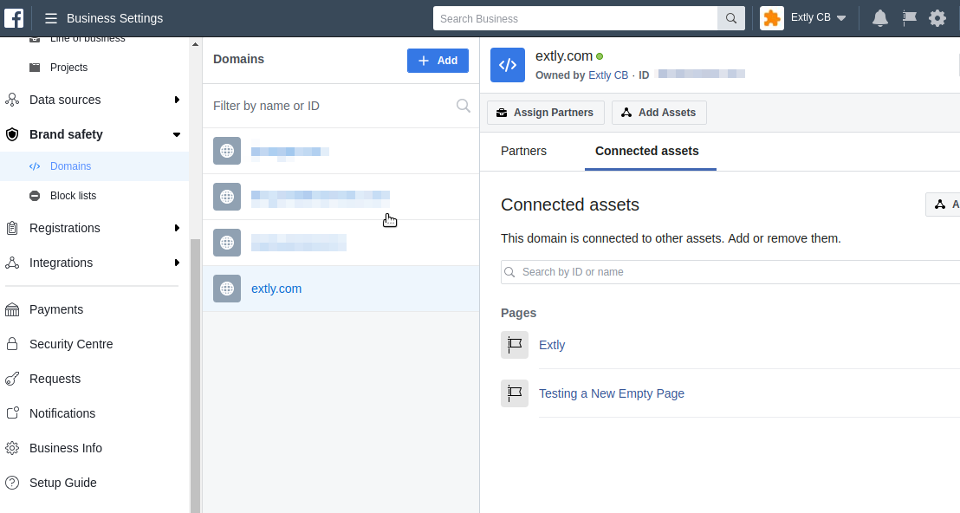 Go to Users to add people that work with your page/s. Then go to Accounts to add the user/s to the page/s.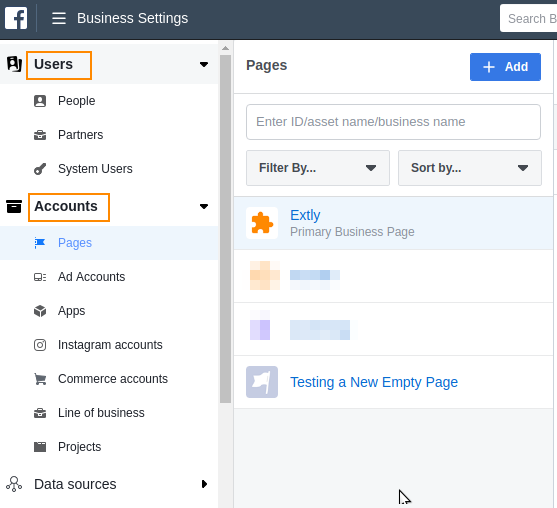 WARNING
Be sure to correctly associate your Pages and People, check if the users are correctly added to the Business Manager/Business Settings/Accounts/Pages/People.
# STEP 3: Create an app
Login at https://developers.facebook.com/ with your Facebook username and password. Go to My Apps, and Add a New App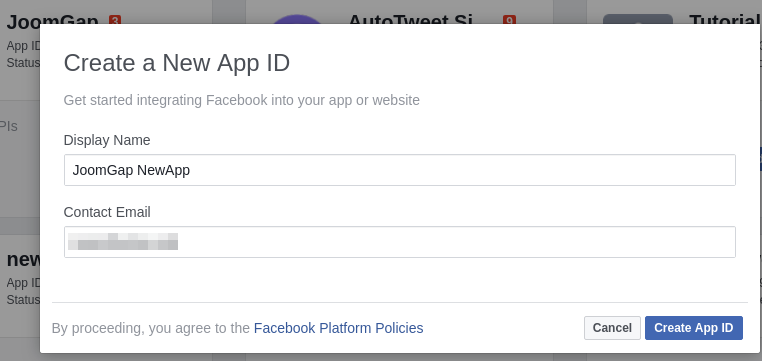 Go to Settings/Basic to find your App ID and App Secret: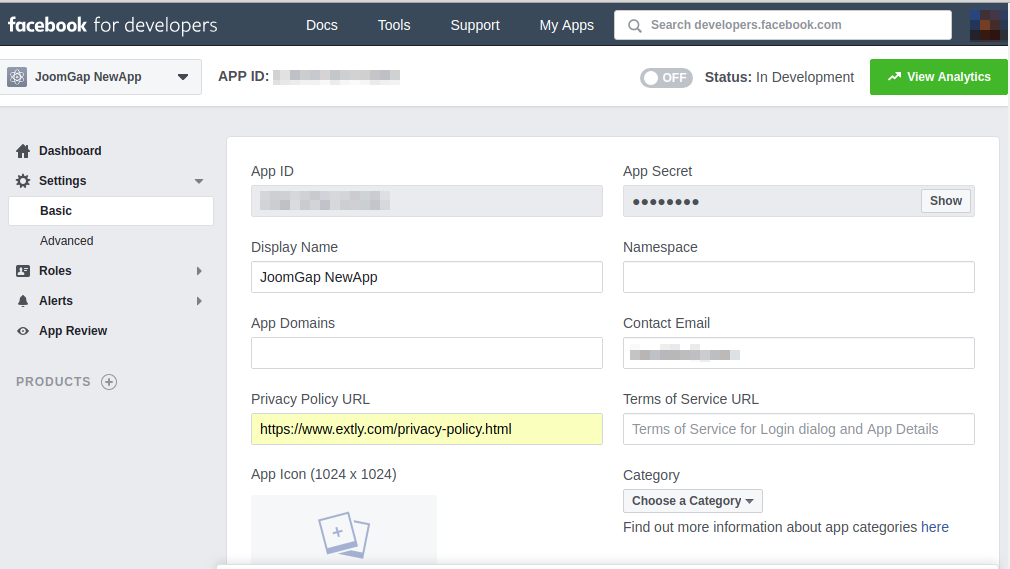 Remember to complete the mandatory information to prepare the App for the App Review:
Fill Privacy Policy URL
Upload App Icon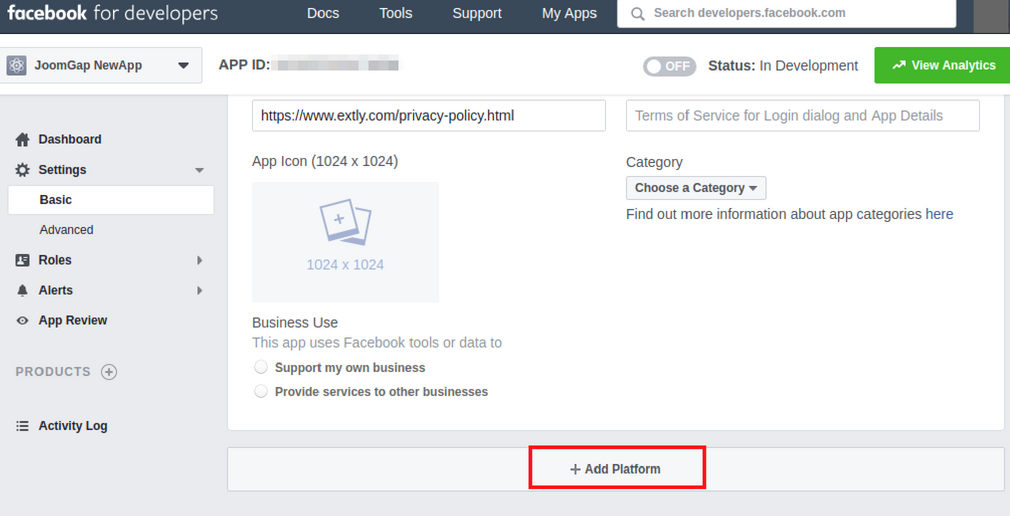 Go to Add Platform, select Website and enter your website URL, and save changes.
TIP
Facebook Graph API 3.0 or superior: If your App is on v3.0 or superior, then Facebook will have to review your app before publishing. If you app is on v2.*, you can skip the App Review, and jump to STEP 4: Create and authorize a social channel.
# STEP 3.1: Test App
We recommend creating the Test App version of your App to practice and optimize your publishing process. The activity on Facebook generated with a Test App will only be shown to the App team.
Go to your apps, select Create a Test App. This Test App will be a clone of your app, but with a different App ID and App Secret. You have to use these Keys to create and test the channel.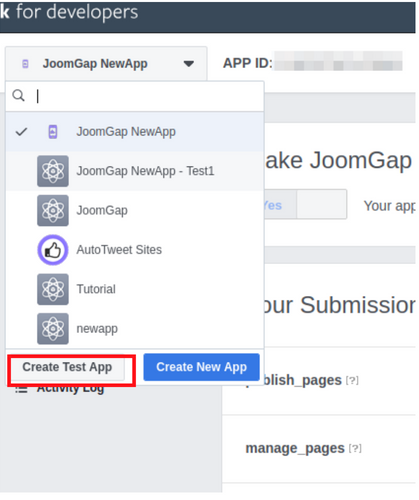 # STEP 3.2: App Review
INFO
What is App Review? App Review is a review process that Facebook uses as a way to ensure the best possible Facebook experience for your app's audience. The app review process aims to help people feel in control of how your app is using their data by requesting only the permissions your app needs to provide a great user experience. For more information, click here.
The App Review submission requires to prepare and submit a defined set of information to Facebook and wait for the approval. To prepare the submission, we have created this tutorial to guide our users: An App Review Study Case.
If your App Review is approved, or you are testing with a Test App (For instance, to prepare the App Review), continue with the following steps to complete the configuration of the channel.
# STEP 4: Create and authorize a social channel
Go to AutoTweetNG/Joocial Control panel, there select Channels tab to create a new channel.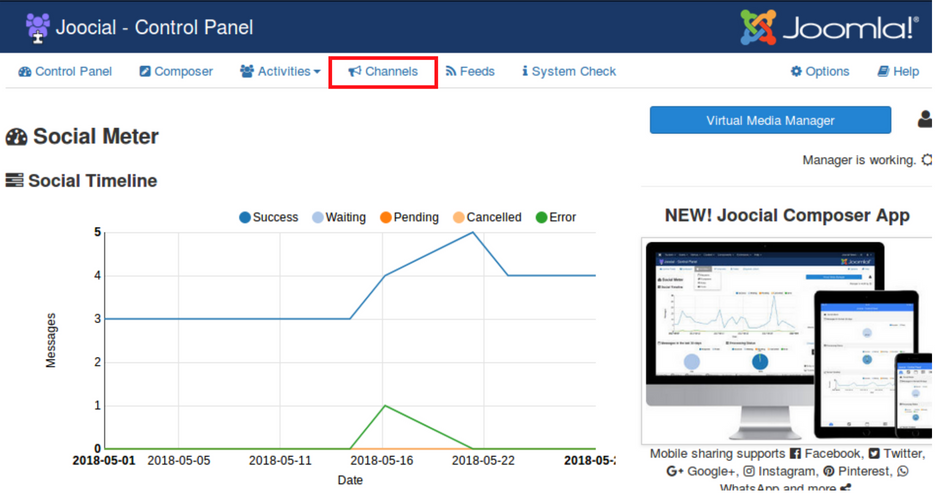 On Channel Tab, click on New, select the Channel Type and complete the Channel Data, App ID and App Secret (Test App).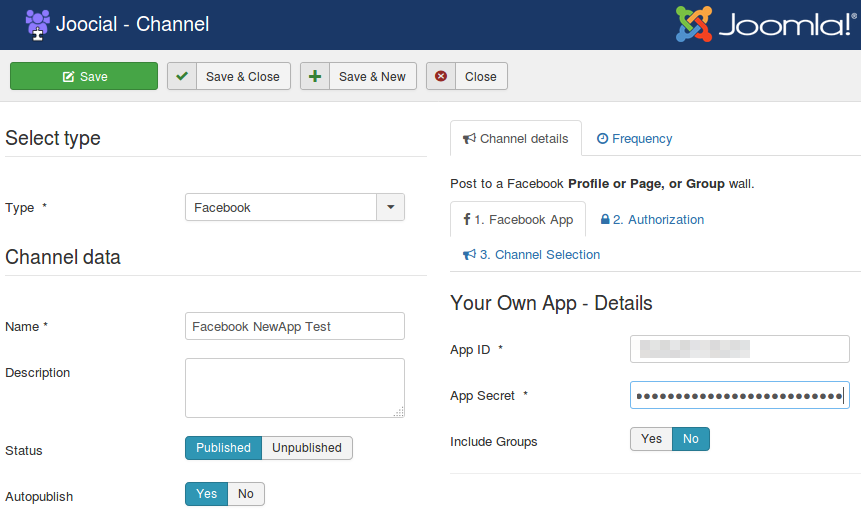 Go to Authorization tab to authorize the app in the Facebook account. Click on "Step 1: Authorize"
TIP
Facebook dialog may differ according to Facebook API version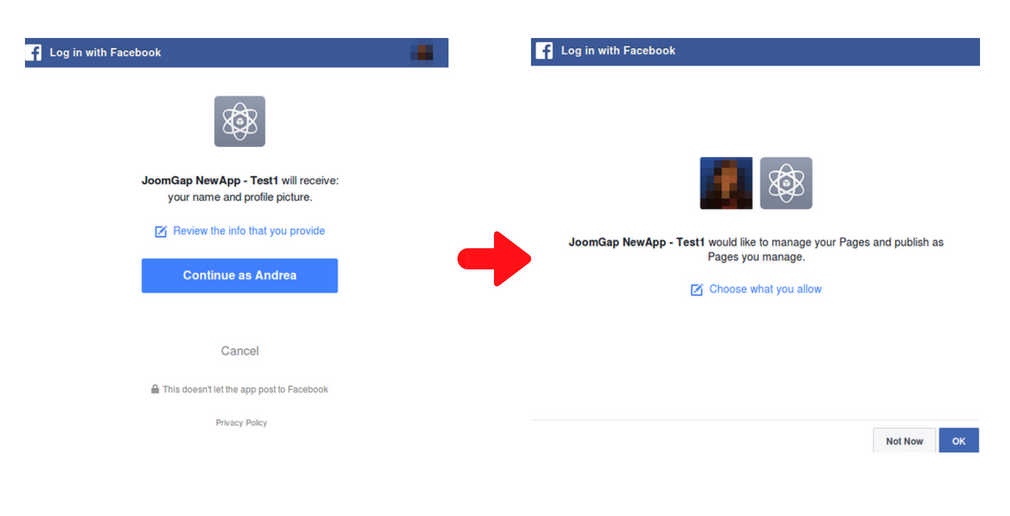 NOTE
The authorization opens a dialog to Facebook. If the dialog is not shown, double-check to confirm if your browser is blocking the dialog. In Chrome, the pop-up blocker could be preventing the opening of the dialog. In Firefox, the function activity tracking could be blocking the task.
After the authorization, the Facebook application provides the Access Token to validate and fill the User-ID.
Click on "Step 2: Validate" The User ID will be filled.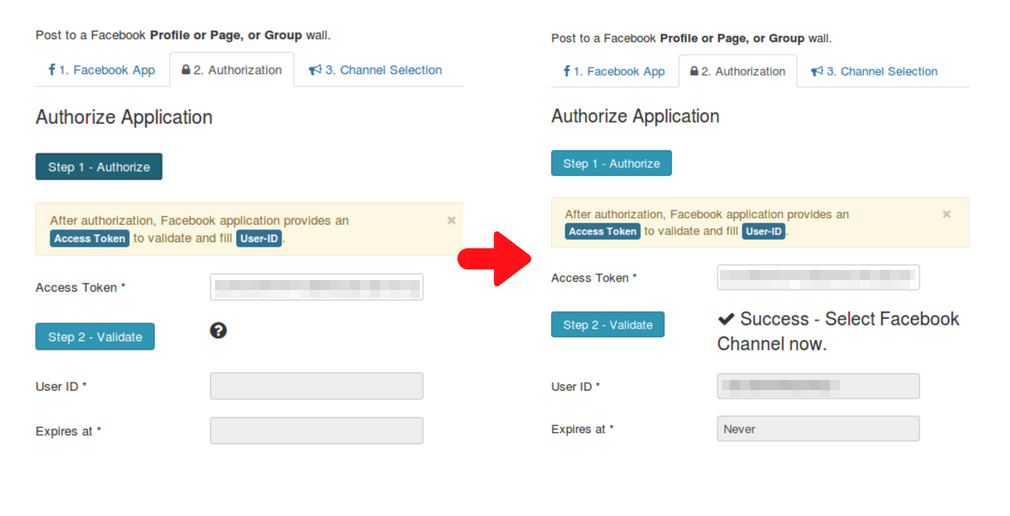 Go to Channel Selection tab and select the specific Facebook channel (page, group or profile).
Click on "Step 3: Validate Channel" and save.
AutoTweetNG/Joocial is ready to publish!
A new authorization Access Token has been granted.
A new Facebook Channel has been created.
By default, all new articles are going to be published on Facebook.
# STEP 5: Create a test article
Create an article
Check the Request list
Wait 3 minutes, visit the front page
Check the Posts list
Check Facebook.
# STEP 6: Create a channel with the Approved App