# Channels
You can access this feature by clicking on Editor in the main menu of Perfect Publisher.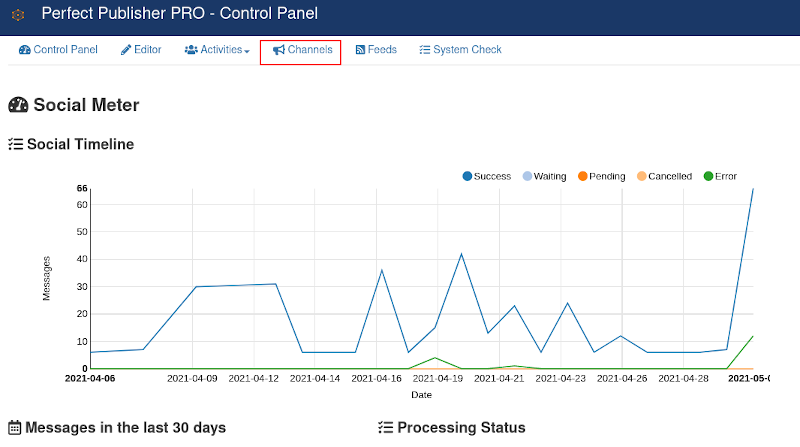 Available operations:
New: operation to create a new channel.
Edit: a channel can be edited to modify its attributes.
Publish / Unpublish: operations to either publish or unpublish channels. Unpublished channels are not used.
Copy: a channel can be copied to be duplicated. For example, to create several ways to publish into the same social network.
Delete: a channel can be deleted to avoid any further processing. If a channel is deleted, related Requests, Posts, and Rules are not deleted.
TIP
Social Networks are not kind to testing messages, duplicated, spamming messages, or repetitive deletions. Please, DO NOT test with a live channel, test with the Mail Channel, or with a different account than your main account.
# Channel options
Each channel has the following options:
Type: Channel type that defines the target social network.
Name: only informational.
Description: only informational.
Status: if set to Published, the channel will be added into the processing; otherwise, it will be ignored.
Auto publish: If auto publish is set to Yes, the message is automatically processed and published into the channels. Otherwise, messages will wait as Posts in Pending status.
Include Hashtags: If this setting is set to Yes, the message includes the defined hashtags (at plugin or rule level).
Post with Images: Posts can be published as text only or text and image.
Show URL: Add or not the URL to the post.
ID: Record number in the database.
# Mail Channel
It is the simplest channel, allowing to receive mail for each processed messages. To learn how the general workflow or to keep track of the processed messages, only these fields have to be filled:
Sender mail (From) *
Sender name *
Recipient mail (To) *
The channel is ready to publish. To complete the channel creation, save it and create a new article in Joomla! to receive a mail with a first message.
# Channels - Frequently asked questions
For more information, visit the Frequently Asked Questions (opens new window).