# How to Share your content from Joomla with the Editor App
In this tutorial, we are going to show how you can share your content from Joomla to social networks using the Editor App.
Prerequisites:
Perfect Publisher v9.2 or superior
Editor App, v9.2 or superior
Once you have checked the prerequisites, proceed with step 1.
# STEP 1: Download and install Perfect Publisher
Download the extension from Extly's Download Area (opens new window), unzip and install Perfect Publisher in Joomla! backend with the standard procedure.
About Perfect Publisher updates: Install the update with the same procedure.
Once you have proceeded with the installation:
-Perfect Publisher component has been installed -System plugin - Perfect Publisher Automator has been installed and enabled to process new content and posts every 3 minutes -System plugin - Perfect Publisher for Joomla! Content (Articles) has been installed and enabled to publish Joomla! content.
TIP
Remember to assign your Download ID to enable all features.
# STEP 2: Enable the Editor App access
The process to enable the mobile app access has two steps:
Joomla! configuration, in your website backend
Editor App installation, in your mobile device
Please, visit Editor App - How to enable the Mobile App (opens new window)
Once the app is enabled, it will be synchronized with Perfect Publisher. In the Editor App you have access to the channels created in the component, to the requests created and posts published or to be published.
# STEP 3: Sharing your content
There are 2 ways to share content from the editor App:
creating a post manually
republishing posts that have already been published
# STEP 3.1: Create a post manually
The Editor App editor has the same functionalities as the component editor and allows you to do the same things depending on the membership you have.
To create a post go to Editor.
Add the text
Enter the post link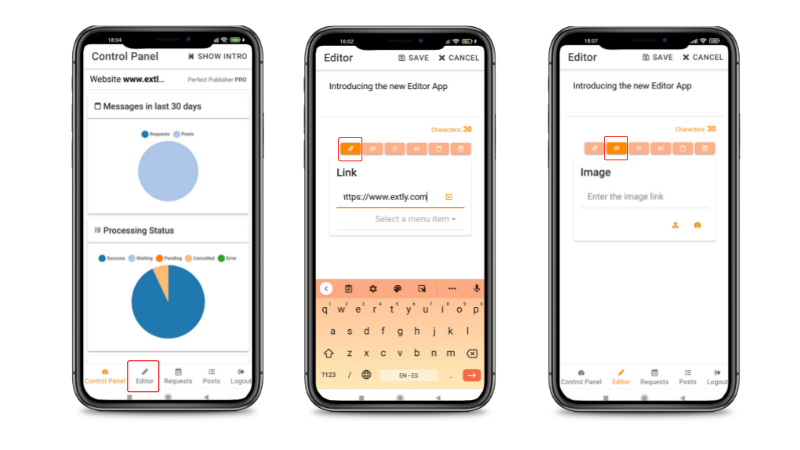 Add an image. You can select an image from your Library or take a picture with your mobile camera.
Define the Publishing Options
Select the Channel/s
Define the date and time for publishing
Define if the post will be repeated.
Click on Save. A request will be created and processed in the same way that it does in the component.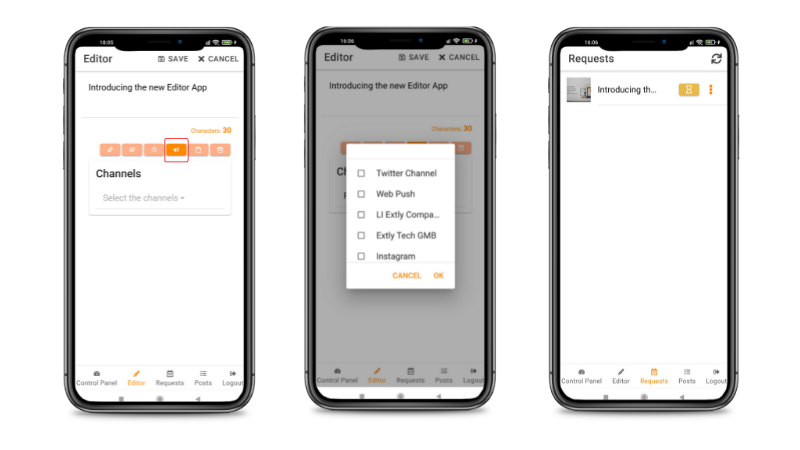 # STEP 3.2: Sharing a published post
You can share a published post to any application enabled in your device, like WhatsApp.
Go to Posts. There you will find all the posts published by Perfect Publisher.
Select the post you want to share. Click on the three dots on the right.
Actions available:

Share: a post can be shared to an app available on the device.
Publish: a post can be published again to the same channel.
Cancel: a post can be canceled.
Close: the dialog can be closed
Select Share
Choose the application you want to share the post to. In this example, the application selected is Skype.
Follow the instructions of the app you have selected.