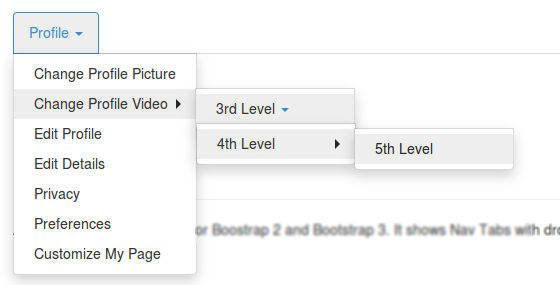 Nav Tabs with dropdowns for Bootstrap 2 and 3. The ultimate module to render a responsive Bootstrap Dropdown menu for Bootstrap 2 and Bootstrap 3. Install it everywhere and enable only what you need.
Beyond template random menus, a single module to empower your sites.
Requirements - GNU GPL v3.0 License - Pre-Sales FAQ - Installation Services
If you are renewing, please log in to your account before the purchase and remember to apply the loyalty coupon (20% Off).
Looking for an installation / personalization service? Our Installation Service service is the product of dedication, experience, knowledge and a customer-focused mindset.

In a nutshell
XT Menu - Nav Tabs with dropdowns generates the required Bootstrap structures to generate Nav Tabs with dropdowns. Additionally, it has support for up to 9 nested levels.
This module displays a menu on the frontend, based on Bootstrap, Subnav, Nav Nav-pills, with Dropdown Menu for Boostrap 2.3.2 and 3. A multi-level dropdown menu on Bootstrap 2 and 3
NOTE: Bootstrap Tabs and dropdowns must be supported by your template.
Pricing
JB DropDown Menu Free
For community sites
XT Menu
For commercial usage
Examples & Demos
We have published a menu module example in our XTDir demo site, please visit it here.
Compatible with Joomla 3 and Bootstrap 2.3.2
For more information, Dropdown menus
Compatible with Joomla 3 and Bootstrap 3  

For more information, Dropdowns
Module configuration
Features
These are the module parameters:
Select Menu
Base Item
Start Level
End Level
Show Sub-menu Items
Alternative Layout
Load Submenu Style
Load Submenu Script