XTCronjob (aka JPrc Cronjobs) is a Joomla package (a component and a plugin) for Cron Jobs Management and Scheduling.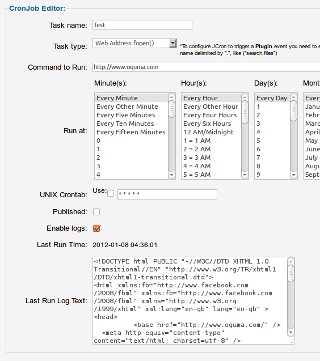 Its purpose is to simulate cron jobs through Joomla front end interface at preset periods of time for users who either don't have access to the server crontab/cPanel or don't want to use it for any purpose.
It is launched at the preset time only if your site gets visits in place. Each time a user or spider accesses your public site you will have the cron running. Eg if you set 3:00am, it might run 3:10am (according your site traffic).

If you need a solution to run, even if there's no visit, you need a server side solution to run within regular and fixed periods of time.
*** This software is a based in venerable JCron, updated for Joomla! 2.5 and 3.0 ***
Installation & Upgrading
Please, install it using the default Joomla procedure.
Note: to execute the cron jobs, it uses the PHP exec() function, so your provider must have it enabled to run a command. In the other hand, you can also work only calling Urls.

Please, remember to enable the plugin. After that, you can create your first Job.
Configuration
These are the Job parameters:
Task name
Task types: SSH Command / Web Address fopen() Web Address fsockopen() / Plugin / Curl - Experimental

Command to Run
Run at: Minute(s)/ Hour(s)/ Day(s)/ Months(s)/ Weekday(s)
UNIX Crontab
Published
Enable logs
Last Run Time
Last Run Log Text
These are the Component parameters:
Enable CRON RUN
Send Cron Logs to Email
Activate Email Logs
Enable Database Logs
About Backup Usage - Experimental
The Curl method is not ready for production usage to create backups:
A backup can take anywhere from 10 seconds to 10 hours, beyond the usual Apache 5' session.
The page load will be delayed for that long when the plugin is running.
Relying on site access to run the backup is extremely dangerous and consistently leads to corrupt backup archives, inconsistent database backups or even ever-looping backup jobs
Reference: Nicholas K. Dionysopoulos, feedback.
Support
Updates
Fix for Call to undefined method EHtmlGrid
Fix in 3.4.1 - Restored TaskManagerHelper.
Fix in 3.3.1 - Restored TaskManagerHelper.
Updates in 3.3.0 - Improved Tasks / Categories navigation
Updates in 3.2.0 - Support for Joomla 3.2 Alpha2 / Framework on Framework RAD revC1A6D5A-1378494129 - 2013-09-06
Updates in 3.1.0 - Support for Curl Urls - Experimental.
Updates in 3.0.1 - Revision for Joomla 2.5/3.0, and Framework on Framework (FOF) v2
Updates in 2.2.1 - Expressions /n fix
Updates in 2.2 - Joomla 2.5 JForms and Categories
Updates in 2.1 - full review for Joomla 2.5 (bug fixed in the table creation Type ISAM x Engine)
Updates in 1.0 - initial release with a basic port
Recommended versions
Joomla! 2.5,

Joomla! 3.0,

or superior