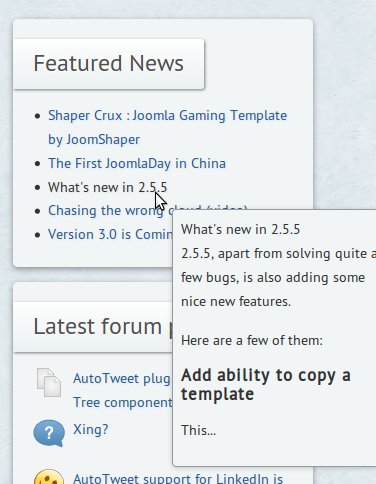 Parse and Display RSS Feed News with DHTML Teaser Tooltip. This module is a dirert port of David Thomas's Slick RSS J1.5 module.
Default RSS Url - Technology  News!
Up to 5 RSS feeds per instance


Display set number of item

Item Title

Item Description

Tooltip Title

Tooltip Description

Limit Word Counts for Title and Description

Enable / Disable Images

Easily Customise Tooltip Colour

Set Link Target (new window, same window)

Supports UTF-8 and International Character Sets

Supports embedded media files in newsfeed (podcasts etc...)

Caching and module class suffix is supported.
Installation & Upgrading
Now included in AutoTweetNG Free, PRO and Joocial
Download Legacy version for Joomla 2.5
Please, install it using the Joomla installer
Support
Updates
Updates in 1.0 - initial release.
Recommended versions