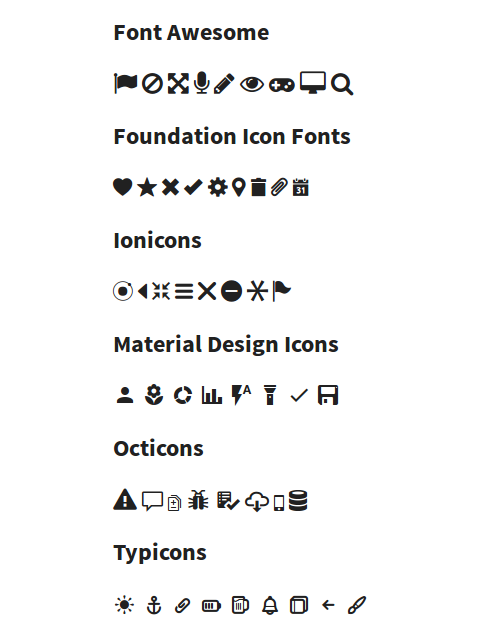 The most popular vector icons in a single package. The ultimate plugin to load vector icons selectively. Install it everywhere and enable only what you need.
Beyond template random assets, a single plugin to empower your sites.
$ 19
XT Ultimate Vector Icons - 6-month Subscription


Requirements - GNU GPL v3.0 License - Pre-Sales FAQ - Installation Services
If you are renewing, please log in to your account before the purchase and remember to apply the loyalty coupon (20% Off).
Looking for an installation / personalization service? Our Installation Service service is the product of dedication, experience, knowledge and a customer-focused mindset.

In a nutshell
XTUltimateVectorIcons includes the following iconsets:
Font Awesome gives you scalable vector icons that can instantly be customized — size, color, drop shadow, and anything that can be done with the power of CSS.
Customize your icons to be any size, color, style in CSS.
The premium icon font for Ionic Framework. 100% free and open source.
Material icons are beautifully crafted, delightful, and easy to use in your web, Android, and iOS projects.
2000+ Material Design Icons from the Community
Your project. GitHub's icons.
Typicons is the result of many stolen hours and late nights to create a high quality icon font that would be free for everyone to use.
Pricing
Examples & Demos
Font Awesome
Sample Code:
<i class="fa fa-flag"></i>
Foundation Icon Fonts
Sample Code:
<i class="fi-heart"></i>
Ionicons
Sample Code:
<i class="ion-ionic"></i>
Material Design Icons - https://material.io/icons
euro_symbol alarm_add search videocam gesture
Sample Code:
<i class="material-icons">euro_symbol</i>
Material Design Icons - https://materialdesignicons.com
Sample Code:
<i class="mdi mdi-account"></i>
Octicons
Sample Code:
<i class="octicon octicon-alert"></i>
Typicons
Sample Code:
<span class="typcn typcn-adjust-brightness"></span>
Plugin configuration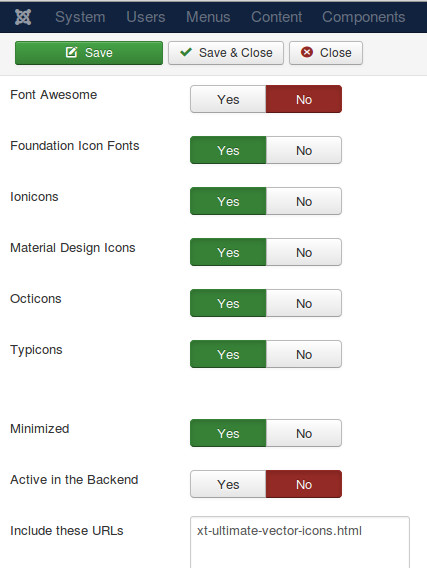 Features
These are the plugin parameters:
Font Awesome
Foundation Icon Fonts
Ionicons
Material Design - https://material.io/icons
Material Design Icons - https://materialdesignicons.com
Octicons
Typicons
Minimized
Active in the Backend
Include these URLs
Exclude these URLs