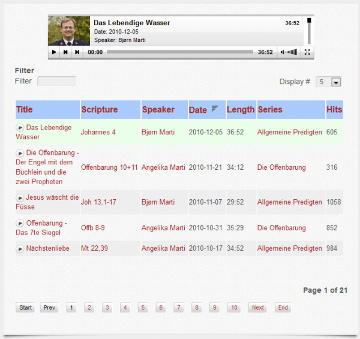 SermonSpeaker is a free Joomla component for churches to publish their sermons. And, now ... A New Member of AutoTweetNG's 3rd party supported extensions.
The plugin has been developed by Thomas Hunziker. Congratulations Thomas!
With the new plugin, SermonSpeaker automatically publishes new sermons to social media sites like Facebook or Twitter.
Some SermonSpeaker features include:
Support for up to 3 files per sermon, one for audio, video and (downloadable) notes.
Supports all fileformats Flash can play (see supported Fileformats for JW Player), also supports wma/wmv files and Youtube and Vimeo videos.
Multiple players integrated (JW Player, Flowplayer, Wordpress Audio Player). SermonSpeaker automatically chooses a fitting player depending on filetype and your favors.
Automatically creates a full featured podcast (RSS feed with iTunes tags).
Frontend Editing for an easy uploading and publishing of new sermons or editing existing ones.
Multiple layouts already included for the sermon detailpage. More layouts can be made easily or downloaded for free. For each view the layout can be selected independently.
Supports external storage servers and Amazon S3.
Support for content plugins like Scripture Links and Biblelink XT
Support for JComments and Xmap
SermonSpeaker plugin is available for download, here.