XTDir is our new solution to empower SobiPro!
XTDir is built based on our 5-years experience working and extending SobiPro (formerly known as Sigsiu Online Business Index 2, or Sobi2 for short).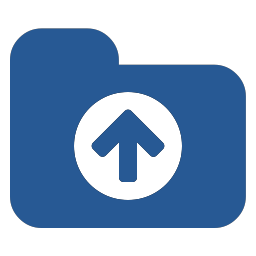 From our humble beginnings, with the SobiPro Search plugin, we 've been creating new extensions for SobiPro, supporting new features and extending Apps, Modules, and Plugins.
Each extension needs its own configuration, and a common configuration; so they became too complex, and redundant with every new feature. We needed to review the whole product model! A new XTDir was born to consolidate our vision and reach new highs. http://demo.extly.com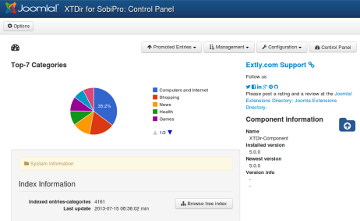 Main Component Features
Dashboard:  Control Panel to manage the general configuration
Joomla Search plugin: To integrate SobiPro with the general search.
Smart Search plugin (Finder): To integrate SobiPro with the general Joomla smart search / simplified Sobipro App for finder.
Promoted Entries for SobiPro
Entries Explorer: The explorer is our main management tool to promote/unpromote, enable/disable, and approve/unapprove actions.
Promoted Entries: Entries can be promoted to top positions in the catalog navigation, in this way an advertisement organization can be implemented.
Tiers for Sections / Categories: Tiers define how the list of promoted entries will be managed. Scope: section-wide or category specific.
Ads algorithms: Default, Hits, Random, or Multi-Armed Bandit (Random+Hits, same used by Google Adwords)
Entries management: Manual (activated by hand), Dynamic (field managed) , or Paid (activated by payments).
Order management
Promotion Expiration/Edition
Promoted Entry Metadata Field: native SobiPro field to include entry metadata (styling)
AlphaListing Entry Promotion
Custom "Order By": Support for custom second order
Modules
The new list of reviewed modules are:
Advanced Features
Performance: Battle tested for large catalogs. This site has more than sample 2.000 entries. More test sections are coming (10-100K entries)

Cronjob tasks: heavy tasks are managed by cronjob tasks. For example, to build an index of 1.000 entries, 100 seconds are required.
XTDir for SobiPro 1.1 Beta 3 is available to all current Packs and Promoted Entries members. The final version is planned for end of June 2013 (after SobiPro v1.1 June 28th release)