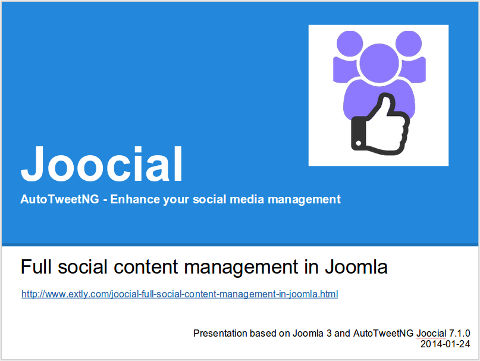 Joocial 7 is now feature complete! We are publishing nightly development build release candidates. It's available for download to all Extly Club members.
What is Joocial?
Joocial is our brand new AutoTweetNG version. Beyond the original AutoTweetNG scope, Joocial is here to provide full social content management for Joomla.
Joocial includes:
All backend AutoTweetNG auto-posting features
Publishing features to empower social media management for general users in Joomla.
Social Publishing Management: New tools to create, edit, schedule, and repeat posts.
Virtual Social Media Manager: High-level virtual assistant to manage when Posts are published, and evergreen posts support (re-publishing).
Jootool - Front-end Social Management Team: Front-end team tool to configure channels, browse, manage content requests and posts.
Please, check the new tutorial or let us know if you any feedback. We are counting the days for the final release.