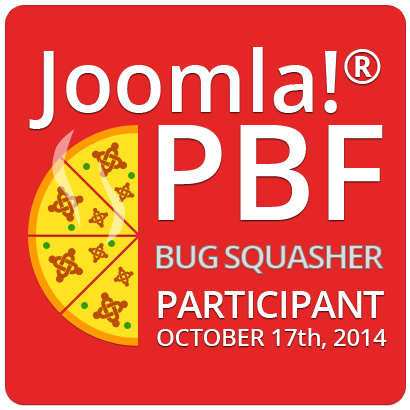 October 17th, 2014 is our next Joomla! PBF event and we'd love for you to be a part of it.
The key goal is to fix as many Joomla 3 and Joomla 2.5 bugs as possible.
The event is an all-day global event for virtual participants, with local venues wherever they are organized.
The event is open to both businesses and individuals.
Participation
We've dubbed the event as a Business PBF, since it's on a weekday (Friday) and we'd like to get more businesses involved. We've created badges that you can use on your sites to spread awareness of the event and get recognition for your participation.
Furthermore, we'd like to give you more recognition and highlight your pledge of participation by placing your logo and a link to your site on this landing page. To be listed on this landing page, please submit this form.