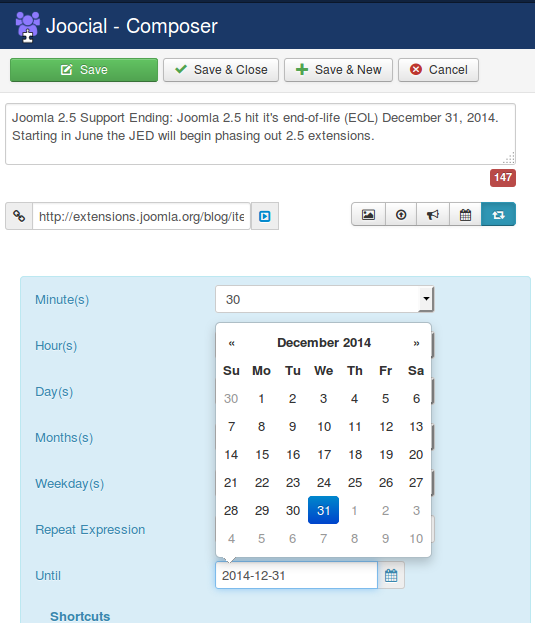 According to Joomla timeline, Joomla 2.5 hit its end-of-life (EOL) on December 31, 2014. Starting in June the JED Joomla! Extensions Directory will begin phasing out 2.5 extensions.
The 2.5 Timeline
June 1, 2015: JED will no longer accept Joomla 2.5 only extensions.
June 30, 2015: The 2.5 compatibility icon will be disabled and any 2.5 only listings will be removed.
Today, we are releasing AutoTweet and Joocial 7.8.2 Beta. These packages include the last new features for Joomla 2.5, leading to the final release of 7.9.
AutoTweet and Joocial 7.8.2 Beta include the following new features:
Joocial Post Management - Repeat Until date field
Joocial Post Management - Post description field
Feeds RSS Script removal
Feeds Get Image from Page
Multilingual - Define language tag by content
To check the full changelog, please, click here.
Upcoming AutoTweet and Joocial 8 are going to support Joomla 3 or superior.