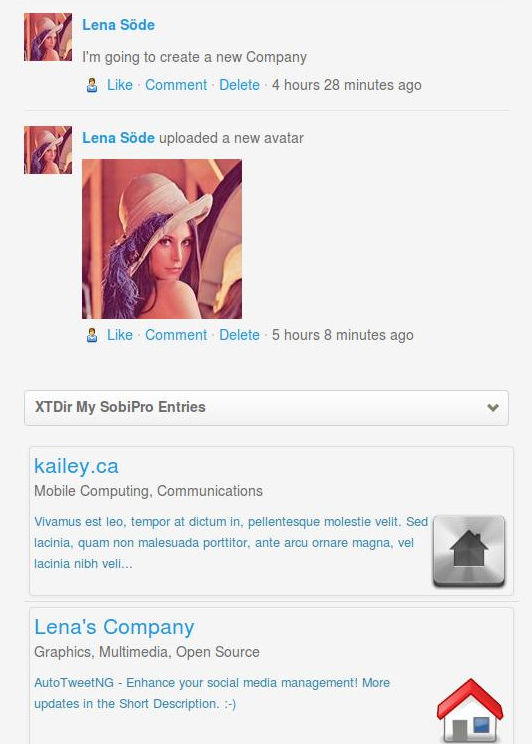 Show SobiPro entries in JomSocial profiles!
"XTDir My SobiPro Entries for JomSocial Free is plugin for JomSocial to provide a core application to show SobiPro entries."
Extension formerly known as SobiProPosts.
In a nutshell
When an user publishes SobiPro entries, they are associated with the user. My SobiPro Entries shows these entries in the user profile.
Examples & Demos
In these examples, you can check how XTDir extends JomSocial and SobiPro in our demo site http://demo.extly.com. Please, check it here in the demo site http://demo.extly.com, where you can find the classic JomSocial 3 installation and SobiPro v1.1 business directory, with 2.000 more entries to fill the catalog.
TIP: How to change the App position
In JomSocial template, you can change where the Apps are generated. For example, in the profile.index.php, you can move around this source code:
         <div id="apps-sortable" class="connectedSortable" >
         <?php echo $content; ?>
         </div>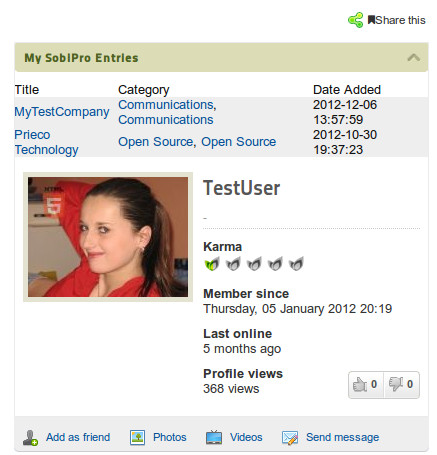 This is the required modification to implement this layout:
<!-- begin: .cMain -->
        <div class="cMain">            
              <div class="page-actions">
              <?php echo $blockUserHTML;?>
              <?php echo $reportsHTML;?>
              <?php echo $bookmarksHTML;?>
              <div id="editLayout-stop" class="page-action" style="display: none;">
                <a onclick="joms.editLayout.stop()" href="javascript: void(0)">
              <?php echo JText::sprintf('COM_COMMUNITY_STOP_EDIT_PROFILE_APPS_LAYOUT') ?></a>
              </div>
            </div>            
            <div id="apps-sortable" class="connectedSortable" >
            <?php echo $content; ?>
            </div>            
              <?php echo @$header; ?>            
              <?php $this->renderModules( 'js_profile_feed_top' ); ?>
Requirements
SobiPro 1.1 (recommended), or superior / SobiPro 1.0.8 is supported in compatibility mode
JomSocial 3, JomSocial 2.8, or superior
Joomla 3 / Joomla 2.5, or superior
PHP 5.3, or superior
MySQL 5.5 (recommended), or superior
License
License: GNU General Public License v3.0
Usage license will never expire. You can use the software FOREVER.
Unlimited sites or domains.
During the subscription period, you can download new versions, with major features and minor fixes/enhancements, or request assistance in our ticketing system. Once the subscription is over, you can renew it, or create a new topic in the community forum.
You can use the software on ALL YOUR sites under the terms of GPLv3.
No part of our source code is encoded.