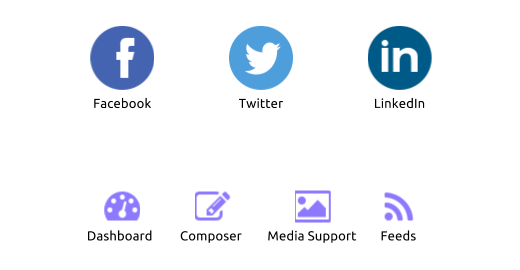 AutoTweet NG Free is a Joomla! extension for automate post publishing to Facebook, Twitter, LinkedIn and more. Simply, AutoTweet automatically posts your content to social networks.
AutoTweet NG Free solves social networks integration in Joomla with mimimum effort in an efficient way.
For starters, when an author creates a Joomla article (content item), AutoTweet generates a content request and auto-tweets a message to the enabled social networks: Facebook ( API 3.0 requires App Review), LinkedIn, Twitter and more.
A first step towards social content management
AutoTweet NG Free has a set of features to simplify social management based on automated auto-posting.
What is the main difference between AutoTweetNG and Joocial?

AutoTweet is mainly oriented for unassisted auto-posting, you just keep using Joomla as usual, creating articles or other content items.

On the other hand, Joocial has all AutoTweet's features plus advanced features for social management. For instance, Joocial has a "publishing agenda" to repeat Posts, or "working hours" to define when your audience is online. In a real life scenario, a publisher can create a new content item and define the social impact, associating media attributes.
Content auto-published from Joomla! to a Facebook Company Page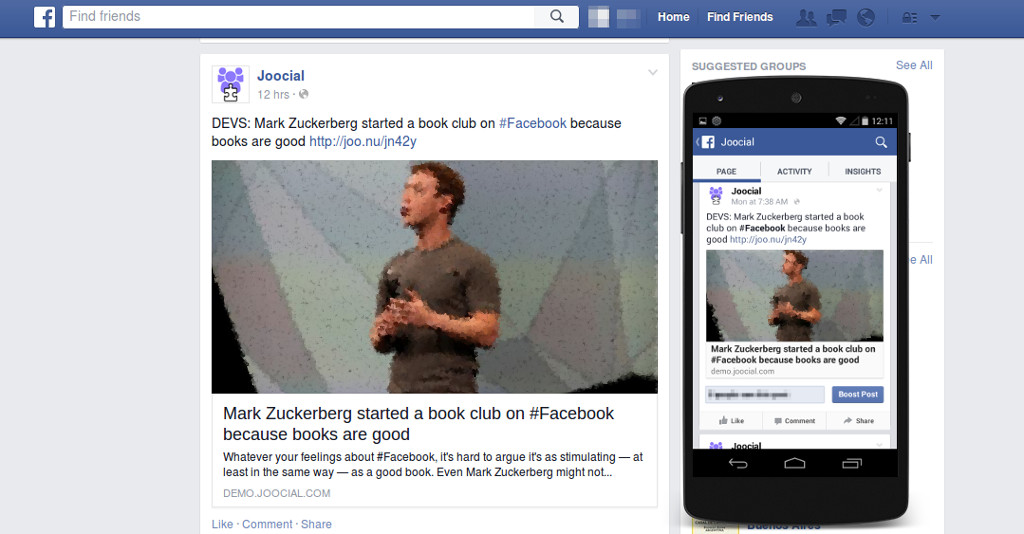 Content stream generated in https://www.facebook.com/Joocial
Once you have a good grasp on social media management, and you are ready to integrate more Joomla! extensions or take advantage of more social networks (namenly JomSocial, Scoop.it or Tumblr), post scheduling, repeats, evergreen posts, and a virtual manager, you can easily upgrade to either AutoTweetNG Pro or Joocial:
Restrictions/Limitations of AutoTweetNG Free
AutoTweetNG Free has most back-end features to support automated auto-publishing. However, it has specific restrictions on channels and RSS Feeds. In addition, it does not have the full hub of integrated extensions and extended management features.
Channels: limited to 2 channels. You can create up to

2 channels only.

RSS Feeds: limited to 2 feeds. You can create up to

2 feeds only.

No support for Yourls, Goog.gl, or other shorteners. Only Tinyurl is supported.
No cronjob support.
Only the Content-Extension plugin is available for free (All other plugins are included in the AutoTweetNG Pro or Joocial).
Community Support is provided for free in Community Forum ... so, no complains ;-)
84 user reviews in Joomla! Extensions Directory
A whopping number of 84 user reviews speaks up for AutoTweetNG as the most popular extension for Social Share Auto-Posting for Joomla!. In addition, the total number of user reviews for the whole family (AutoTweet Free, Pro and Joocial) is 149!
Very usefull and time saving extension!
... The setup is very easy and guidelines are helpful. Now we can focus on content and the extension is doing the work for sharing recipes on all major social networks :) And that is not all... support is very, very good! Thanks guys.

Marinel Cuculj - Source: JED
Great extension and very versatile!
This extension does what it promises, and more! I'm only using it right now to publish posts from my Joomla site to LinkedIn and Facebook, but I know it can do much more and will probably take advantage of additional features in the near future. It also has a paid version that I might consider trying as well. There were a few questions I had when I first started using it, but the support from the developer has been outstanding! ...

Marc Bressman - Source: JED
Auto-Tweet Screenshots, Tutorials and Demo site
Screenshots
The following screenshots have been generated from Joocial News demo site, capturing auto-published content in a desktop view and a mobile device view. As part of our social media management strategy, we operate the Joocial News demo site. In this way, we have a perfect leading case to show what can be achieved creating a news site based on +20 RSS Feeds to distribute content messages to our social channels. Joocial for Joomla! CMS is a real social media content management.
Content auto-published from Joomla! to a Twitter channel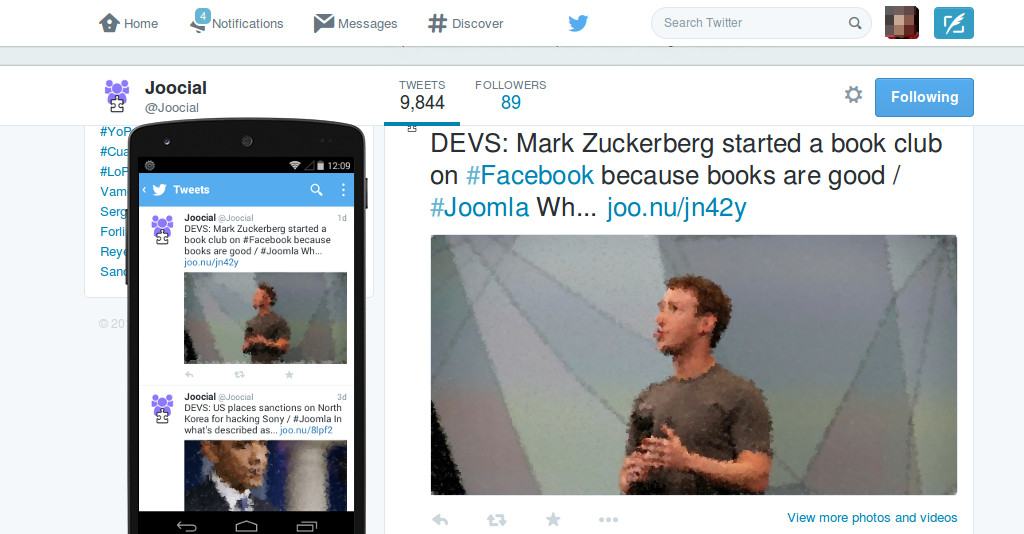 Content stream generated in https://twitter.com/Joocial
Content auto-published from Joomla! to a LinkedIn channel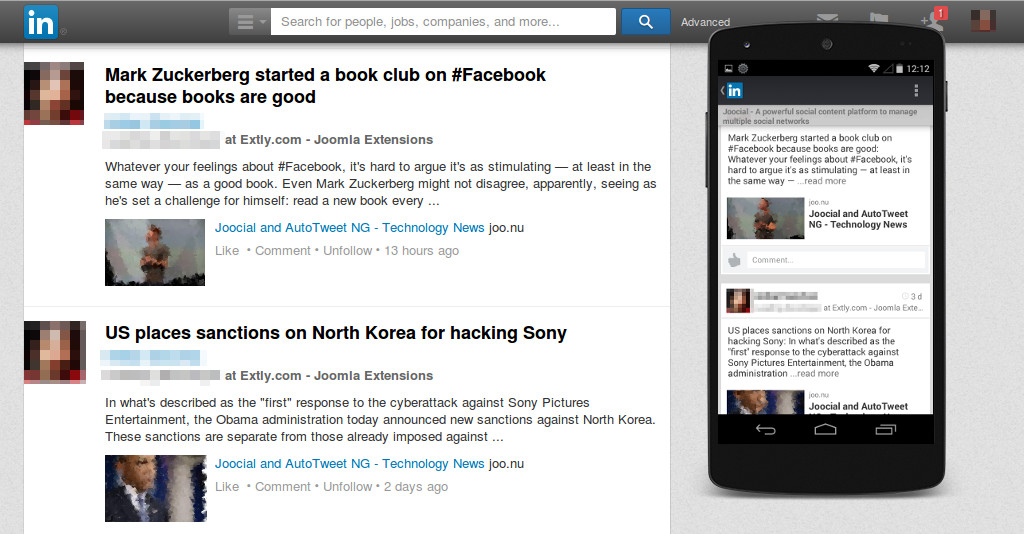 Social Composer
AutoTweet has a poweful editor to create and edit social posts. In this way, you can create new messages to follow the same content defined strategy than the rest of the posts.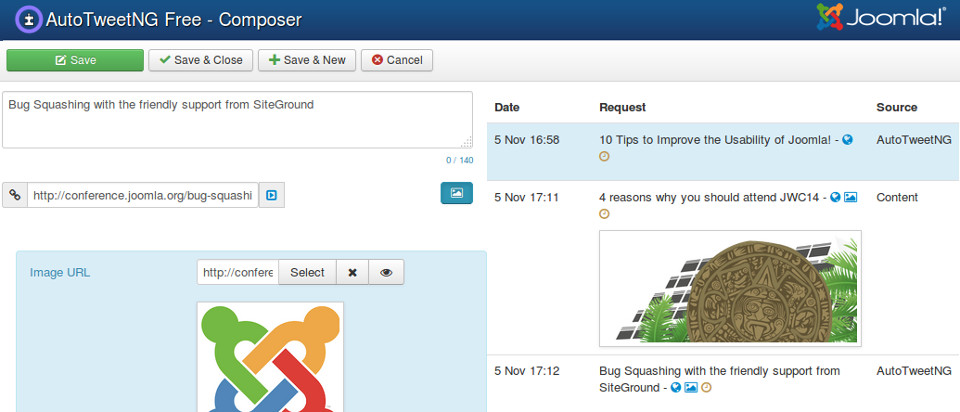 Tutorials
We have created detailed tutorials for every step of the installation and configuration of the social auto publishing process. You can review the list of tutorials here in the documentation site. To have a first approach on how the autotweet generator process works, please check the following tutorial:
Tutorial: How to AutoTweet from Joomla in 5 minutes
How to Auto Tweet from Joomla in 5 minutes - Online Web Presentation