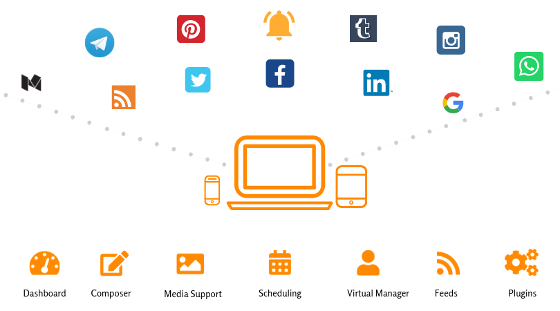 Joocial promotes the Social Management of your Content by creating and delivering messages from your own system. Simply, Joocial automatically posts your content to social networks + advanced content management.
Joocial is the next stage of AutoTweet evolution, beyond simply auto-publishing content.
Joocial speaks up for a unified content strategy in selection, creation, maintenance and distribution on the web. Social channels are integrated to publish rich messages from cohesive sources, in a timely manner, engaging your audience.
Achieve 360-degree social management with Joocial
For starters, Auto Tweet NG PRO has a set of features for complete automated auto-posting. Joocial builds on this base to supply innovative features for state-of-the-art community management.
What is the main difference between AutoTweetNG and Joocial?

AutoTweet is mainly oriented for unassisted auto-posting Just keep using Joomla! as usual, creating articles or other content items.

On the other hand, Joocial has all AutoTweet features plus advanced features for social management. For instance, Joocial has a "publishing agenda" to repeat Posts, or "working hours" to define when your audience is online. In a real life scenario, a publisher can create a new content item and define the social impact, associating media attributes.
Content auto-published from Joomla! to a Facebook Company Page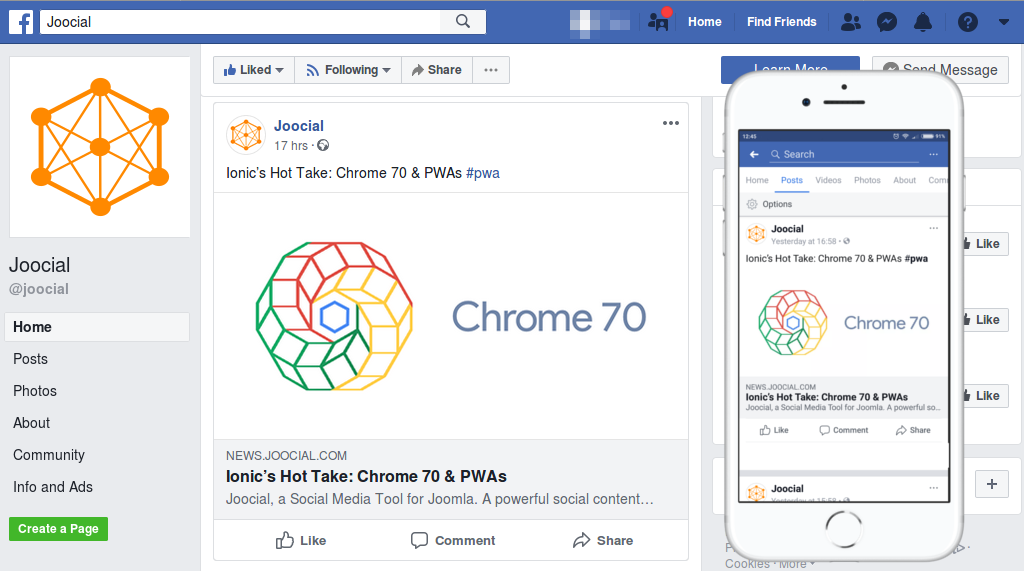 Content stream generated in https://www.facebook.com/Joocial
Joocial's basic configuration begins with the same steps than social auto-posting: multiple unlimited channels, requests and posts administration, rules, RSS feeds for article generation and integration with over 60+ Joomla! application extensions.
Once the first stage is completed, the social strategy can take advantage of modern techniques to multiply audience engagement.
In a Nutshell: Joocial management features
Joocial Composer

At this instance, Social Composer adds new dimensions to create precise messages according to the designed strategy: media manager, publishing attributes, channel selector, agenda and repeats.

Social Post Tools

Social Publish toolbar and Editor button define social posting properties right in the integrated content source.

Virtual Manager

High-level virtual assistant for managing when messages are published following a definite agenda or repeats, according to working hours.

Evergreen Posts

If there is no content to be published, the virtual assistant can retrieve and republish messages marked as evergreen, depending on frequency.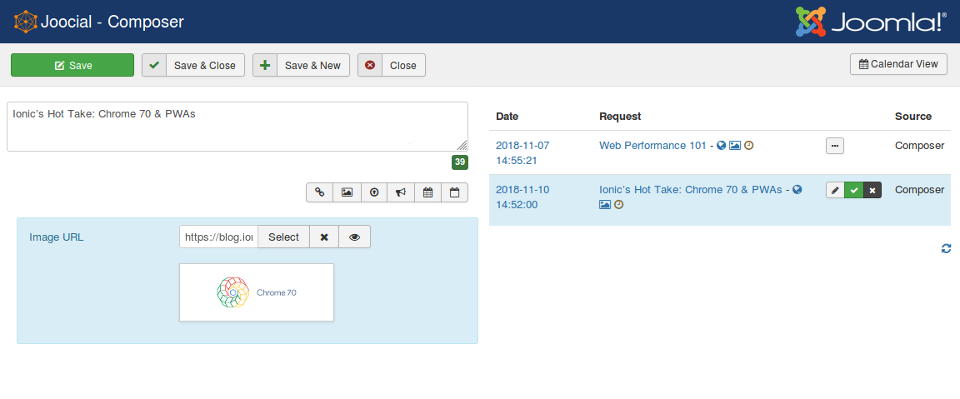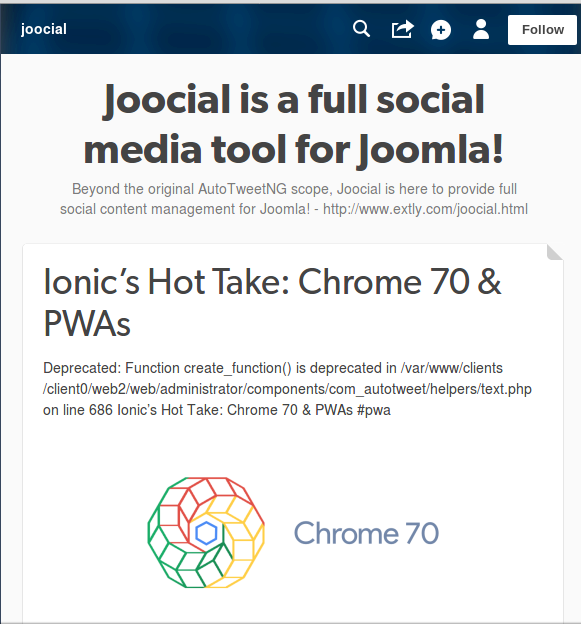 Content stream generated in
http://joocial.tumblr.com
Web Push Channels

Support of Web Push Channels, powered by OneSignal or Pushwoosh.

Content-oriented Channels

Apart from the most popular social channels, Joocial provides complementary channels to increase exposure: Google My Business Channel, Blogger, Tumblr, JomSocial, EasySocial, Telegram and Medium.

Social Tag Plug-ins

Facebook Open Graph and TwitterCard support to automatically add content tags.
149 user reviews in Joomla! Extensions Directory
The total user reviews for our social share family (Auto Tweet Free, AutoTweet NG Pro and Joocial) is 149!
They listen to their customer needs
When I took a look at the list that included almost if not all the most popular extensions of Joomla! , I realized that Extly team do listen to their customers and I just want to say keep it up guys, best of luck :)

Tarek Tarek Tarekitsme - Source: JED
Great Support
...it does everything it promises and I very quickly got the operations of the component and there seems to be a lot of flexibility you can program/ configure into the way the social media channels take and report information from the site.

Graeme - Source: JED
Joocial Screenshots, Tutorials and Demo site
Screenshots
The following screenshots have been generated from Joocial News demo site, capturing auto-published content in a desktop view and a mobile device view. As part of our social media management strategy, we operate the Joocial News demo site. This way, we have a perfect leading case to show what can be achieved creating a news site based on +20 RSS Feeds to distribute content messages to our social channels. Joocial for Joomla! CMS is a real social media content management platform.
Content auto-published from Joomla! to a Twitter channel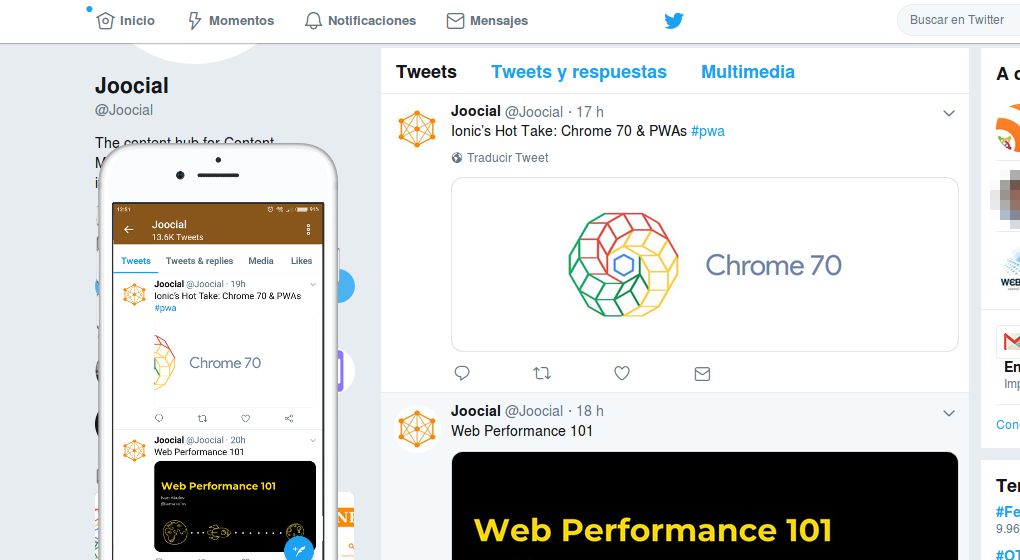 Content stream generated in https://twitter.com/Joocial
Joocial Social Publishing Management
Beyond auto-posting content, Joocial introduces tools at component item level for defining specific properties. Integrated with Joomla Articles, EasyBlog, FlexiContent, JoomShopping, K2, SobiPro, Zoo, and more.
Joocial Virtual Social Manager
Joocial Calendar View and World Clock & Time Zone Map
Tutorials
We have created detailed tutorials for every step of the installation and configuration of the social auto publishing process. You can review the list of tutorials here in the documentation site. To have a first approach on how the autotweet generator process works, please check the following tutorial:
Tutorial: Joocial - Full social content management in Joomla
Tutorial: Joocial - K2 Social Content Management
Tutorial: Joocial - EasyBlog social content management