We have been working hard on Joocial and JoomGap to cope with the opportunity and challenge of mobility. In social media management, there is a gap between content creation and social sharing that have to be covered to take advantage of its full potential.
Right now, we are releasing our second take on Joocial Composer App 8.3, and it comes with a new powerful feature: mobile content sharing.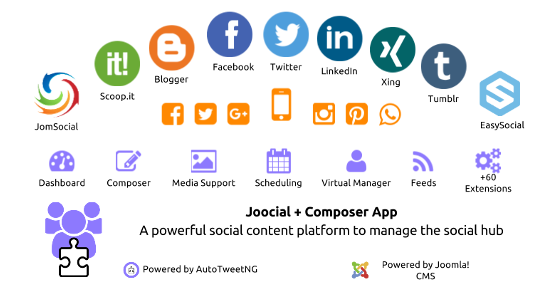 Until now, Joocial and AutoTweetNG have integrated Joomla! CMS with social networks to publish content directly from the site. In this new development, Joocial Composer App is integrated with our extensions to manage posts and share them from the mobile device. This feature provides a whole new dimension to social management for Joomla!. In this new scenario, new business cases are supported. Firstly, a social manager can supervise and manage all posts from Joomla! (a frequent requirement from users whom prefer manual publishing instead of content auto-publishing). Secondly, content can be shared or re-shared at any time or from anywhere when an opportunity appears (e.g. a community event). Finally, all social networks are integrated via their own mobile applications, likewise:
Facebook
Twitter
Google+
Instagram
Pinterest
WhatsApp
Any social network with a mobile app
In this road, we expect great many things. For instance: we are creating our Instagram and Pinterest channels to feed them right from our site with Joocial Composer App.
To the moon!