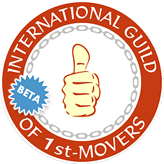 First of all, we'd like to thank you for your continued encouragement for the 1stMover extensions and AutoTweet Project.
1st-movers.com started as a fun project to test the capabilities of Joomla. Over time it evolved to a community dedicated to the support our Joomla extensions, and many interesting features for information exchange and networking.
Now it's time to move the house to provide a full professional service dedicated to develop and support AutoTweet and our family of extensions, joining forces with Extly.
In

Prieco S.A., we've been witnessing an amazing growth developing extensions, beyond our wildest expectations.
We have ramped up our team to provide you a high quality  professional service!
Extly.com is our new entrepreneurship to exclusively commercialize, develop and support software extensions.
New ticketing system
New payment system, more options and flexibility (beyond Paypal support)
Current SobiPro & JomSocial products overhaul
New social products launch
With that being said, starting from July 23th, 2012, AutoTweet and the family of extensions are going to be distributed and supported on https://www.extly.com.
We believe that in the long run, this move will benefit everyone. The Journey is the Reward!
Ulli Storck
1st-movers.com
Aníbal Sánchez
Prieco.com