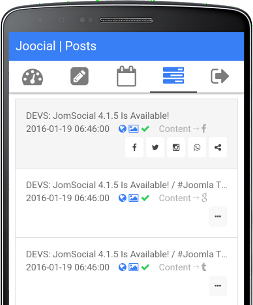 Composer App is a brand new mobile App for Joomla! social management. This plugin integrates Joocial for Joomla! CMS with Composer App (Android or iOS).
Our social mobile app is the next stage of channel management for Joomla!. It is ready to provide new advanced features for communities, powered by mobile added-value services. From Joomla! extensions, content items can be directly published via mobile sharing to social networks like Facebook, Twitter, Instagram, Pinterest, WhatsApp (or any other application ).
Requirements - GNU GPL v3.0 License - Pre-Sales FAQ - Installation Services
If you are renewing, please log in to your account before the purchase and remember to apply the loyalty coupon (20% Off).
Looking for an installation / personalization service? Our Installation Service service is the product of dedication, experience, knowledge and a customer-focused mindset.

We are glad to introduce the Joocial Composer App
Mobile Apps for Joomla! are coming. Breaking new grounds, Joocial Composer App is a mobile app to manage your social content from your Joomla! CMS site.
In a nutshell, Joocial Composer App has the core features needed to create and publish posts from Joomla!
Control Panel and Stats: A control panel, to show general operation stats.
Composer Editor: An advanced form to enter or edit social posts, with custom control types.
Requests management: A list of requests, for navigating and managing Waiting posts.
Posts management: A list of posts, for navigating and managing the processing of social posts.
Mobile Sharing for Joomla!: This is a native sharing window for mobile devices. It supports Facebook, Twitter, Instagram, Pinterest, WhatsApp and more.
From a technical point of view, it is powered by JoomGap. JoomGap is a solution to integrate hybrid mobile apps and Joomla! on OAuth secured communication. Management permissions are granted via a token access, generated with an OAuth authentication. The username and password are NOT stored in the mobile app. This plug-in is required to open a secure communication channel with AutoTweetNG PRO or Joocial.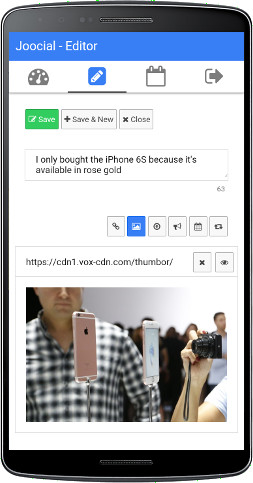 What does Your Membership include?
All of our memberships for Joomla! CMS include: Major and minor versions of the extensions (New features, Bug fixes and Enhancements) and support services for our customers. For more details, click here.
Particularly, a mobile application like Joocial Composer App is a binary file distributed from App stores, created and compiled for Android or iOS. To provide these powerful new features and support, we publish the mobile application for free and created this new membership to integrate the mobile application. To enable it, you must install and configure Composer App integration for Joocial plugin. For more details, click here.
Can we buy the Composer mobile application source code?
Yes. If you plan to create your own mobile application, then we have a membership for mobile app development that includes Joocial Composer App source code. The application is based on PhoneGap/Ionic Framework and powered by our Joomla integration SDK, JoomGap. For more details, click here
AutoTweet and Joocial versions
Social Media Specialists - Check out Installation Services
(*) New Plugin Best-Effort Support: We love to integrate new extensions as the way to improve our social hub beyond its limits. If we don't have a plug-in, we add it in product roadmap to release ASAP (in practice 1-2 weeks). Our track record in the changelog.