A powerful content hub for managing multiple social and notification channels.

Requirements - GNU GPL v3.0 License - Pre-Sales FAQ - Installation Services
If you are renewing, please log in to your account before the purchase and remember to apply the loyalty coupon (20% Off).
Looking for an installation / personalization service? Our Installation Service service is the product of dedication, experience, knowledge and a customer-focused mindset.

Content-oriented Solution
Seamless content integration. A solution to create channels, manage requests, evergreens, rules, posts and RSS feeds. Ready for High Load.
Engage & Publish
Publish content in a faster and more efficient way according to the designed strategy: virtual media manager, publishing attributes, channel selector, agenda and repeats for scheduling.
Social Management
High-level virtual assistant for managing messages: follow a defined agenda, repeat or republish as evergreen, according to working hours.
Fully Integrated Publishing Tools
Integrated Operation

Content is published from integrated extensions and distributed to social channels according to a defined strategy.

Messages perfectly defined

Social Composer adds new dimensions to create precise messages : media manager, publishing attributes, channel selector, agenda and repeats.

Media Management

Features to include images, choose image to post, image preview and validation.

Advanced scheduling & publishing tools tools

Edition tools, to define publishing agenda, repeat frequency or evergreen properties and Powerful Rule Engine, to create customized messages.

Team collaboration tools

Tasks managed according to Joomla! Users, Groups, Roles, and Permissions, enabling front-end support.

Complementary Tools

RSS Feeds grabber, Social Tags Plug-ins for Google Link, Facebook OpenGraph and TwitterCard.
Essential tool for managing social networks channels
Facebook Page and Group channels, Twitter, LinkedIn Profile and Company channels.
Web Push channels, powered by OneSignal or PushWoosh.
Google My Business, Blogger, Scoop.it, Telegram, Tumblr, JomSocial, EasySocial and more.
Cutting Edge Automation
Post your website activity or any of your social media distribution channels, immediately on Facebook, Twitter, LinkedIn and more.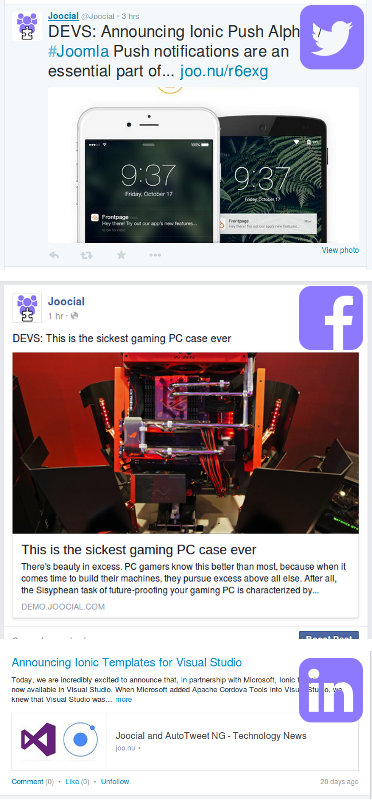 What Our Customers Said
Joocial is the world's cutting edge Social Media Suite of Tools developed exclusively for the leading Content Management System (CMS) Joomla!

T. Chambers PRTechnology News
This extension does exactly what it says it does: sharing content from your Joomla site to your social media sites. It has a wide array of features and has very thorough documentation. I was up and running in less than 5 minutes. This extension makes consistency in our marketing efforts significantly easier.

On top of that, there service is superb! I have worked with a great number of third party Joomla extension developers and this company is one of my top 3 when it comes to support. I almost always get responses to my support tickets the same day and they provide you with the exact answer or solution you are looking for. The extension itself has never had issues, but I often times have special requests and they're quick to respond. I've even seen them add features I have requested in the very next release of the software! Truly one of the best developers out there!

CarbonIsle Joomla! Extensions Directory