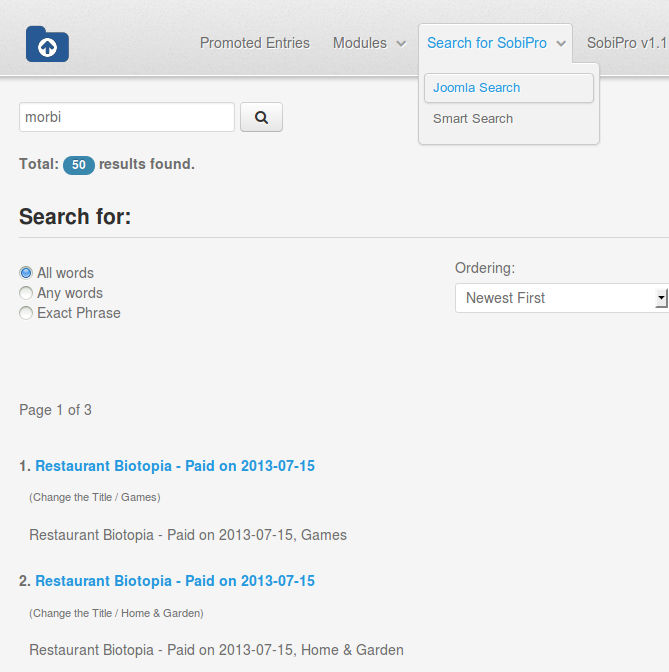 General Joomla search for SobiPro!
"XTDir Search Plugin is a Joomla search plugin. It extends the core Joomla search engine to support SobiPro entries."
In a nutshell
Joomla Search engine, support for integrated core search.
Supports for ONE Section (restricted)

Category search and navigation.
Full Text Search, to take advantage of MySQL Full-Text search indexes.
Download / Install from Web v6.4.0
If you are looking for Multi-Section search: XTDir Search Plugin+ (Plus) or the full XTDir for SobiPro.
Commercial XTDir, modules & plugins
All paid memberships include upgrade & support for 6 months on unlimited sites, ticket support (http://support.extly.com).
Ready for more?
Requirements - GNU GPL v3.0 License - Pre-Sales FAQ - Installation Services
If you are renewing, please log in to your account before the purchase and remember to apply the loyalty coupon (20% Off).

Examples & Demos
Please, check it here in the demo site  http://demo.xtdir.com, where you can find the classic SobiPro business directory, with 2.000 more entries to fill the catalog.
Search results with XTDir Search Plugin for SobiPro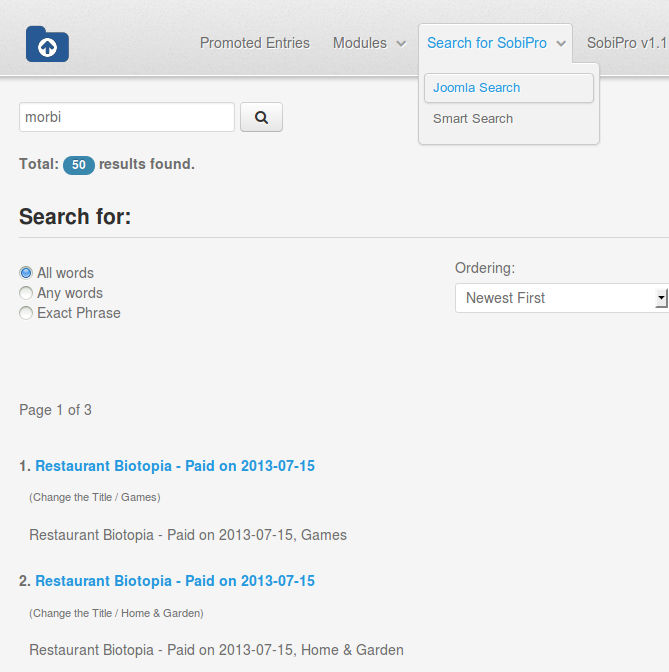 Core Index of SobiPro Entries Configuration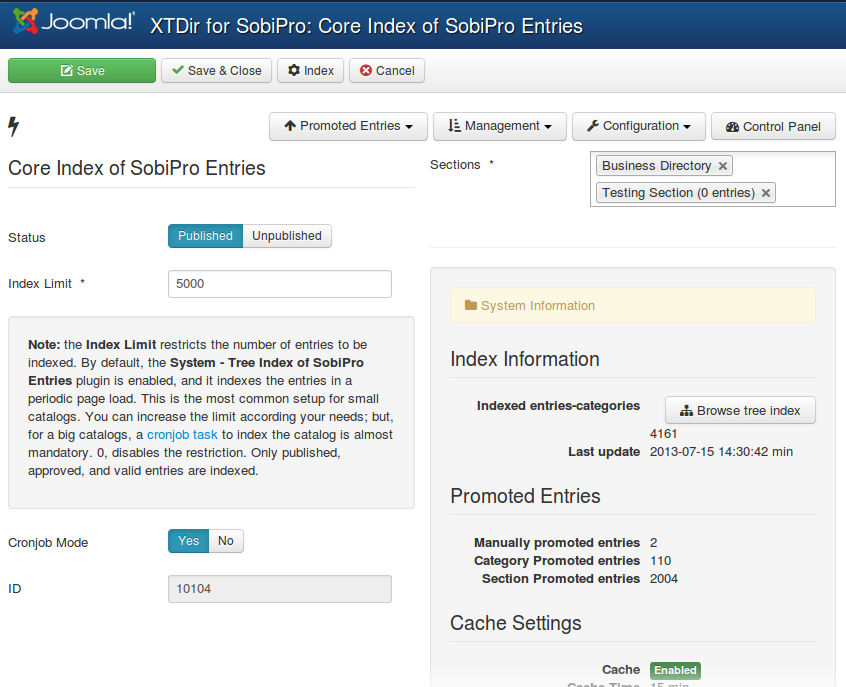 Joomla Search for SobiPro - Details Configuration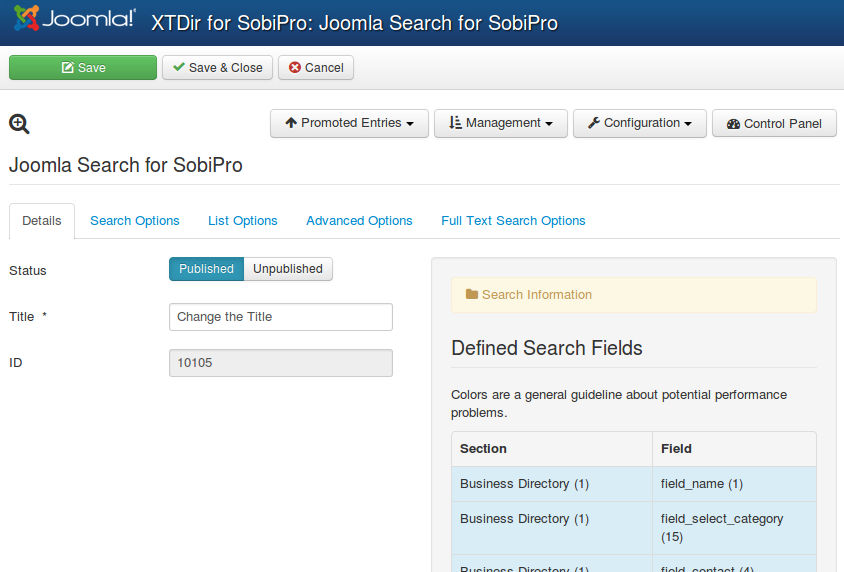 Joomla Search for SobiPro - Search Options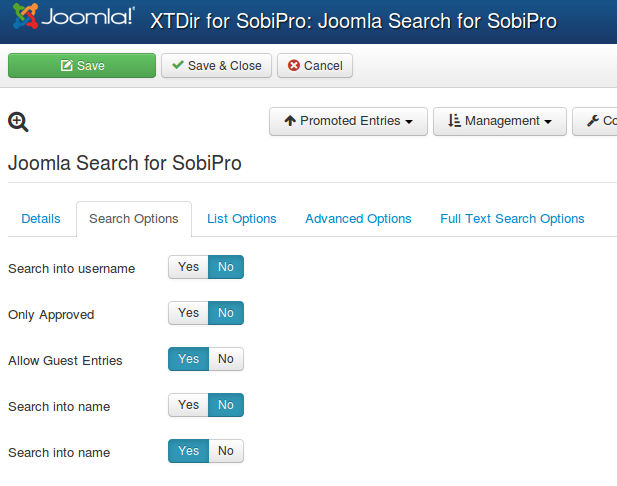 Joomla Search for SobiPro - List Options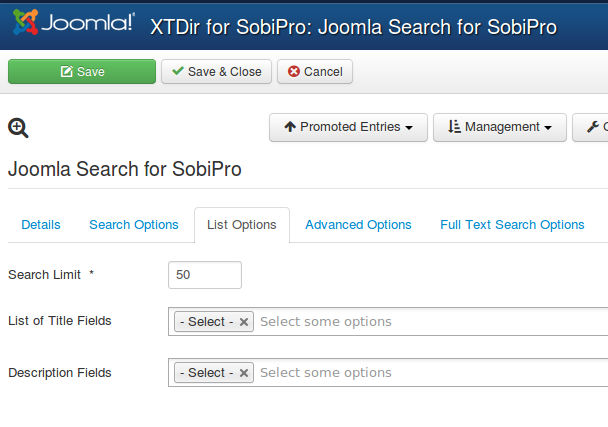 Joomla Search for SobiPro - Advanced Options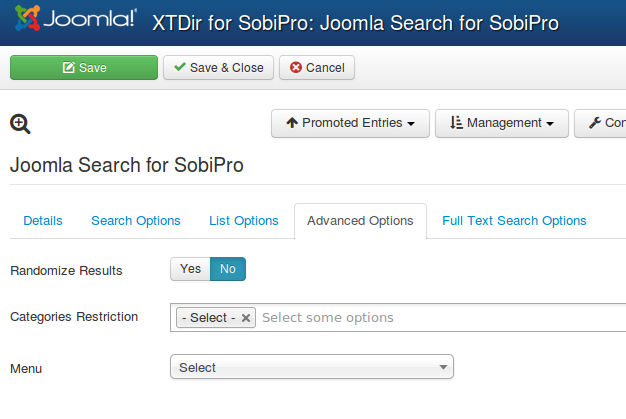 Joomla Search for SobiPro - Full Text Search Options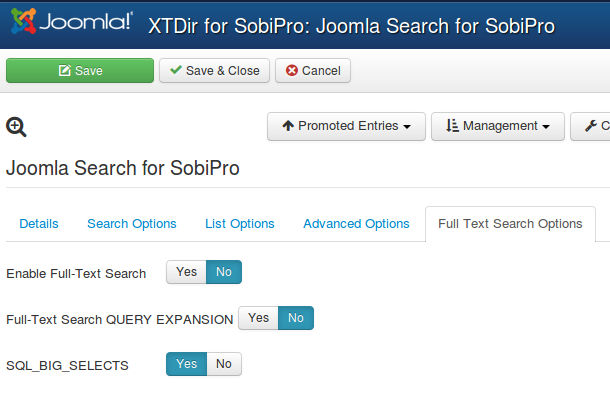 Features
Core Joomla Search support
Category Filter support (sid_list parameter)
Empty Search support (no keywords)
Full Text Search option
Empty Search Mode, in Joomla Search
Cronjob Indexer for high performance configuration
Custom Order for results list
Full control for performance tuning
Developed with FOF - Framework on Framework is a RAD framework for the Joomla! CMS.
Requirements
SobiPro 1.1, or superior
Joomla 3, Joomla 2.5, or superior
PHP 5.3, or superior
MySQL 5.5 (recommended), or superior
License
License: GNU General Public License v3.0
Usage license will never expire. You can use the software FOREVER.
Unlimited sites or domains.
During the subscription period, you can download new versions, with major features and minor fixes/enhancements, or request assistance in our ticketing system. Once the subscription is over, you can renew it, or create a new topic in the community forum.
You can use the software on ALL YOUR sites under the terms of GPLv3.
No part of our source code is encoded.