Details
After 6 months of research and development, we have finally released AutoTweet and Joocial 8.
AutoTweet and Joocial 8 are our renewed platform to enhance your social media management as never before! The biggest social hub for Joomla, leading to new heights.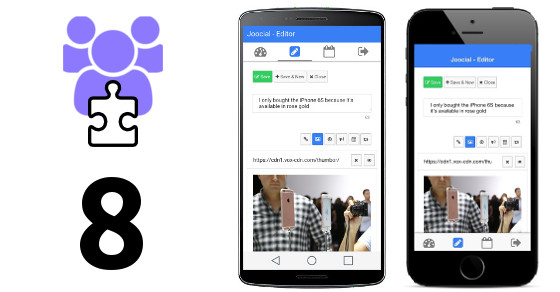 To follow this new road, we took the decision to release periodic beta releases for version 8, add new features, and finally replace the venerable version 7.
This development strategy allow us to innovate and prepare a new platform for a new technology iteration of new powerful features.
To sum up, this is the recipe that has guided our development:
Joomla 2.5 compatibility mode is gone. Users still on Joomla 2.5 must remain on AutoTweet and Joocial 7.9.
Integration with Joocial Composer App, to take advantage of mobile added-value features for Android and iOS, powered by JoomGap.
Composer and Item editor have been rewritten to be optimized and support new functionalities.
Installer and Live Update review and optimization
General usability improvements, optimizations and code styling
On top of this fantastic roadmap, we have packed on this new build the sum of matured social plugins from the traditional branch. Together, AutoTweet and Joocial version 8 deliver 60+ social plugins, including the latest plugins for CMGroupBuying, JV-LinkDirectory, Matukio and phpBB/ p8pbb.
Upgrading to version 8
As usual, you can update your Joomla 3 site, simply installing the new version on top of your current version or via Live Update. To take advantage of the new Joocial Composer App, please, check the following documentation chapter: Composer App - How to enable the mobile App access
What's Next?
The future looks bright and the times ahead are exciting. This is our new platform for social content management. We have already started planning for the next version and intend to amaze you with every new release.
To the moon!